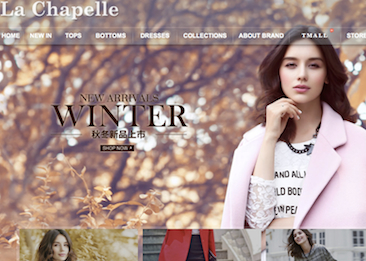 China-focused private equity firm Orchid Asia Group Management Ltd. has increased its minority stake in multi-brand apparel group Shanghai La Chapelle Fashion Co., Ltd. for HK$122 million (US$16 million), according to a regulatory disclosure document.
La Chapelle, backed by venture and private equity investors, just completed an IPO in Hong Kong earlier this month, raising a total of HK$1.7 billion (US$220 million) by offering 121.58 million ordinary shares at HK$13.98 apiece.
Orchid Asia, through its fund Orchid Asia VI, L.P., has acquired eight million shares in La Chapelle at HK$15.15 to HK$15.2 per share, on top of the 5.2 million shares already owned by Orchard Asia.
In return, the private equity investor will own 6.35% of the company, up from 2.51% previously.
It is unclear when and how Orchard Asia acquired its prior stake of the company.
Investors in La Chapelle include Legend Capital, Boxin Capital, Shanghai Ronggao Venture Capital, Beijing Goldman Sachs and Asia Alternatives Management LLC.
According to its IPO prospectus, Legend Capital holds 17.81% of the company, Goldman Sachs owns 3.75%, Boxin Capital and Asia Alternative Management each holds 4% and 0.83% respectively after the completion of the IPO.
Beijing Goldman Sachs invested RMB300 million (US$48.9 million) for a 5% stake in 2013, says the filing.
Two cornerstone investors, Hong Kong-based jewelry and property conglomerate Chow Tai Fook Enterprises and a subsidiary of Chinese specialty chemical firm Zhejiang Longsheng Group, invested US$50 million in total in La Chapelle's IPO.
Orchid Asia, with offices in Hong Kong, Shenzhen, Shanghai, Beijing and Guangzhou, just closed its sixth China fund at its hard cap of US$920 million in August.