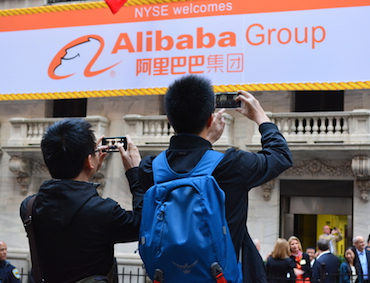 Chinese companies dominated global technology initial public offerings, accounting for over 50% of the volume and 93% of proceeds during the third quarter, according to data released by consultancy firm PwC.
Of the 18 tech IPOs completed globally during the third quarter, 10 were Chinese companies. Eight Chinese companies completed IPOs on Chinese exchanges compared to five in the second quarter, with two listing on the Shanghai exchange, four on the Shenzhen exchange and two on the Hong Kong exchange.
Two Chinese companies listed outside of China were on U.S. exchanges, including a recording breaking US$25 billion IPO of Alibaba Group Holdings Limited on the New York Stock Exchange, and iDreamsky Technology on the NASDAQ.
IPO proceeds from Chinese exchanges rose 41% from US$767 million in the second quarter to US$1,085 million in the third quarter, says PwC.
Globally, a record US$24.8 billion was raised by 18 technology companies from six different countries, a 50% increase in volume over last year.
Third quarter proceeds also exceeded the US$17.8 billion raised in the second quarter of 2012 when Facebook completed its IPO of US$16 billion.
"Record IPO proceeds in the third quarter reflect the continued economic recovery and underlying optimism prevailing around the world," says Raman Chitkara, global technology industry leader at PwC. "While the final quarter of the year has started with rising market volatility, investor faith in the future of the technology sector remains strong, meeting and even exceeding historical norms."
In terms of industries, Internet software and services maintained their positions as the most active sub-sectors for technology IPOs.