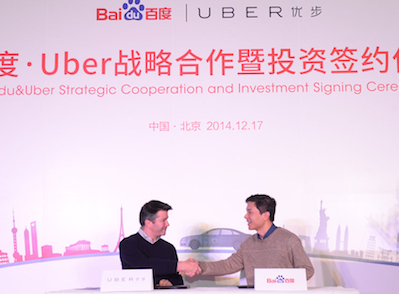 Chinese search engine Baidu Inc. and San Francisco-headquartered ride-share and taxi service firm Uber jointly announced a strategic investment and cooperation agreement, confirming widespread media reports last week, according to a statement posted on Uber's website.
Uber CEO Travis Kalanick and Baidu chairman and CEO Robin Li announced the agreement at a signing ceremony at Baidu headquarters in Beijing. The companies did not disclosed transaction details, but it is believed that Baidu is likely to invest up to US$600 million in Uber.
Under the terms of the agreement, Baidu will invest in Uber and enable users of Baidu Map and Mobile Baidu, Baidu's flagship mobile search app, to connect easily with Uber driver-partners.
Uber will leverage Baidu's strengths in mobile search, mobile mapping and app distribution to expand in China.
"We're currently in 250 cities around the world, and the Asia-Pacific region has been a key area of growth for us," says Travis Kalanick.
Uber currently operates in nine cities in China, including Beijing, Shanghai, Tianjin, Chongqing, Shenzhen, Guangzhou, Wuhan, Chengdu, and Hangzhou.
Earlier this month, Uber just announced that it has raised US$1.2 billion in new round of financing to boost its international expansion. The company was valued at US$40 billion.
Earlier this week, Uber's local competitor, Beijing-based taxi-hailing mobile app maker Didi Dache, said it had completed US$700 million series D financing led by Temasek Holdings, DST Global and existing investor Tencent Holdings Limited.
Baidu mobile search has over 500 million monthly active users, and Baidu Map has over 240 million monthly active users. Baidu is China's largest mobile app distribution platform, distributing an average of 160 million apps on a daily basis, according to the statement.
In recent years, Baidu has expanded into multiple markets outside of China, focusing on Southeast Asia, the Middle East and North Africa, and Latin America.
In July, Baidu launched its first western-language search engine in Portuguese in Brazil.