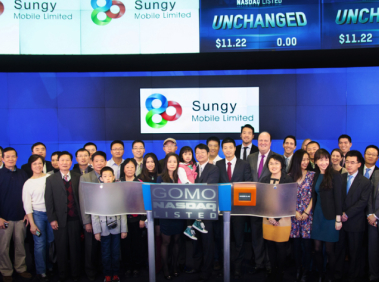 Guangzhou-based Chinese mobile content and service provider Sungy Mobile Limited says that it has received a preliminary non-binding proposal from the company's senior executives to take the company private, according to a company announcement.
Sungy Mobile's chairman and CEO, Deng Yuqiang, and company co-chief operating officer Zhu Zhi, propose to acquire all of the company's outstanding ordinary shares currently not owned by them, at US$4.9 per American Depositary Shares (ADSs), each of which represents six ordinary shares.
The company is backed by venture firms, IDG Capital Partners, JAFCO Ventures, WI Harper, and CBC Capital.
The proposal comes less than 18 months after the company completed its NASDAQ IPO in November 2013, raising approximately US$79 million by offering 7.0 million ADSs at US$11.22 apiece.
The go-private deal's offering price represents an 8% premium compared to its last closing price of US$4.52 before the announcement, but is a 56% discount to its IPO price.
Founded in 2004, Sungy Mobile mainly provides GO platform and products. In addition, Sungy also operates a mobile internet portal 3G.cn and mobile reading services. It has offices in Beijing, Shanghai and San Francisco.