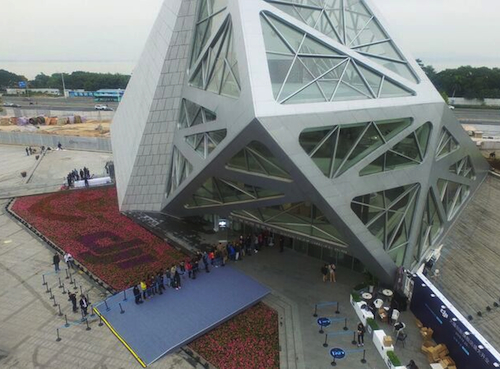 Shenzhen-based Chinese consumer drone maker SZ DJI Technology Co., backed by Accel Partners and Kleiner Perkins Caufield & Byers (KPCB), has opened its first flagship store in Shenzhen yesterday, according to an announcement.
The 800-square-meter store features a full range of DJI's consumer products and aims to let consumers see, touch and learn first-hand about the company's products.
"The DJI flagship experience is an important touchpoint to connect people with our cutting-edge technology and get a sneak peek into the future," says Frank Wang, DJI Founder and CEO.
On display and for sale are DJI's Phantom 3 series, the Inspire 1 and Spreading Wings series, Matrice 100, Guidance, the Ronin handheld three-axis camera gimbal line, as well as the company's latest integrated stabilized 4K handheld camera, the Osmo.
In September, DJI was reportedly raising a new funding round of approximately US$500 million at a valuation of U$10 billion.
In May, DJI raised US$75 million from Accel Partners and Kleiner Perkins Caufield & Byers (KPCB) at a reportedly US$8 billion valuation.
Founded in 2006, DJI's consumer drones are used by filmmaking, agriculture, conservation, search and rescue, energy infrastructure, and other sectors.