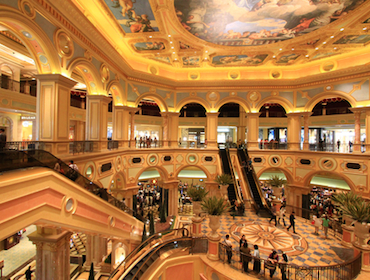 Macau's better-than-expected gaming revenue numbers for February 2016 are not a sign of a rebound, and the city will most likely face another tough year in 2016, says Standard & Poor's Ratings Services.
The Gaming Inspection and Coordination Bureau of Macao SAR released data yesterday that gaming revenue in Macau declined 0.1% in February 2016, the smallest year-over-year decrease over the past 21 months.
"Gaming revenue in Macau is likely to decline (up to) 10% in 2016, given policy headwinds and the structural shift to mass market customers from high rollers," says Standard & Poor's credit analyst Sophie Lin.
The rating agency says the effects of the Chinese government's commitment to anti-corruption and tightened regulations in Macau will continue to constrain gaming revenue growth in Macau in 2016.
In particular, there is continued sluggishness in high rollers or the "VIP" segment, which may see revenues fall 10% to 20% this year.
Gaming revenue from the mass market segment, or regular customers, will stabilize, given a lower base and the opening of new casinos that target this segment.
New gaming capacity will likely temper the decline in gaming revenue.
Both Las Vegas Sands Corp and Wynn Resorts Ltd. announced that they
will stick to their plan of opening their new casinos in Macau's Cotai Strip in the second half of 2016.
Nevertheless, a slower ramp-up in operations and longer payback periods for new casinos mean weak growth prospects and risk insufficient gaming table allocations.
Melco Crown Entertainment Ltd.'s new casino, Studio City, reported adjusted EBITDA of US$12.6 million in 2015, which was about 10% below S&P's expectation, says the rating agency.