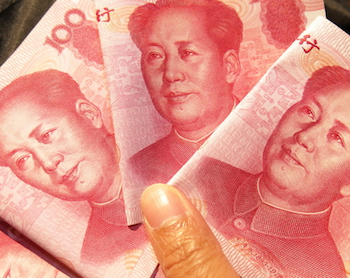 Hong Kong-listed Chinese property developers including Shui On Land Ltd., Country Garden Holdings and R&F Properties have seen their financial results hit by the devaluation of the RMB.
Despite core earnings jumping 438% in 2015 to RMB2.4 billion, Shui On Land reported that earnings dropped RMB718 million to RMB1.77 billion last year and profits attributable to shareholders dropped 55.7% to RMB788 million.
The decline is due to around RMB1.3 billion foreign exchange losses, as the company has 45% of its borrowings in U.S. dollars and Hong Kong dollars, which is pegged to the former.
Country Garden reported around RMB1.2 billion foreign exchange losses. The Guangdong province-based residential developer says it has reduced its U.S. dollar and Hong Kong dollar borrowings, and has used currency hedging tools, to reduce its future exchange risks.
R&F Properties, another Guangdong province-based property developer, says it recorded RMB1.2 billion foreign exchange losses last year, up from RMB800 million in 2014.
The RMB's devaluation also hit companies that source materials from outside of China and settle their trades in U.S. dollars.
Nine Dragons Paper (Holdings) Ltd. suffered foreign exchange losses of RMB1 billion, which pushed down its profits attributable to shareholders to a decline of 54%.
Hengan International Group Co., Ltd., China's largest producer of sanitary napkins and baby diapers, also reported HK$330 million foreign exchange losses in 2015.