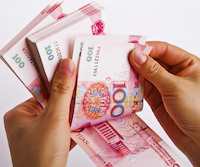 WeLab, a Hong Kong and Shenzhen-based online lending start-up backed by Malaysia's state fund Khazanah Nasional, has secured a credit line of US$25 million from ING Bank, an existing investor in the company.
The credit line will provide lending capital for WeLab's Hong Kong business and enable it to meet growing demand for loans in Hong Kong, the company announced.
In January, ING Bank participated in a US$160 million series B round in Welab. That round was led by Malaysia's state fund Khazanah Nasional, with participation from Guangdong Financial Technology Group.
At that time, WeLab and ING Bank said they would explore partnerships on online lending and direct banking.
Founded in 2013, Welab operates Chinese mobile lending platform Wolaidai and Hong Kong online lending platform WeLend. It currently has over seven million registered users and has processed US$4.6 billion of loan applications.
"We believe this credit facility is one of the first completed by a major bank to fund the portfolio growth of a financial technology company in Asia and are confident that this facility will open more doors to institutional funding in the near future," says WeLab founder and CEO, Simon Loong.
WeLab previously received US$20 million series A round from Sequoia Capital, Hong Kong tycoon Li Ka-shing's TOM Group and Yuri Milner, founder of DST Global.