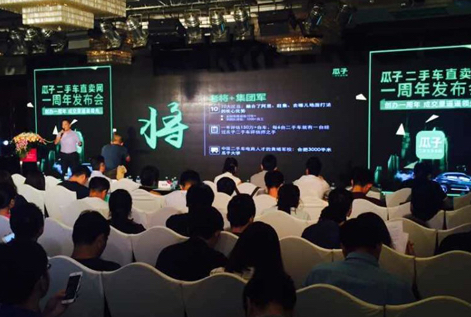 Against the backdrop of a cooling venture market, online used car trading platform Guazi.com Inc. says it has raised a staggering US$250 million in series A financing round to fund its growth.
Matrix Partners China and BlueRun Ventures participated in the round, the company announced. Following the closing, 58.com holds a 34% stake in Guazi on a fully diluted basis.
The company was valued at US$1 billion in this round. The new fundraising comes at a time when venture investors are backing off from betting on business models that rely on burning cash to gain market share.
Founded in 2014, Guazi is led by Yang Haoyong, founder of Ganji.com, an online classified ads portal that merged with rival 58.com last year.
Yang said that Guazi's online platform currently has over 120,000 used cars on sale from 179 cities in China. It also has 1,500 automobile assessment professionals assisting transactions.
Guazi's mobile app has daily active users of 1.25 million, double the amount claimed by the market's second and third largest player, RenRenChe and Youxinpai, according to data from iResearch.
Guazi's CEO Yang Haoyong also laid out the company's strategic objectives, including reaching monthly transaction volume of over 100,000 used car transactions, expanding automobile financial services and building up big data capabilities.
The company also plans to invest RMB1 billion in branding and marketing efforts, after hiring Chinese movie star Sun Honglei as brand spokesperson.
Last week, RenRenChe, a competitor to Guazi, announced a US$150 million new funding round from Prometheus Capital, China Minsheng Investment and other investors.
(Update on September 27, 2016: The company announced that Matrix Partners China and BlueRun Ventures participated in the series A round.)