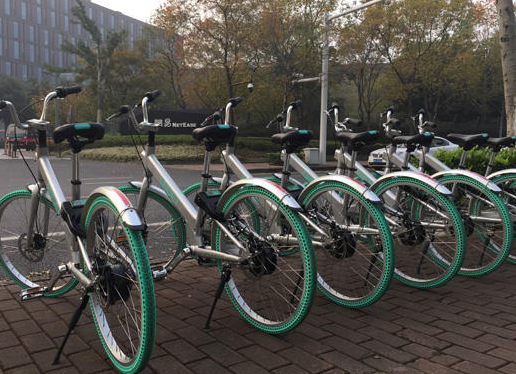 Chinese venture capitalists and entrepreneurs continue to throw money at bike sharing companies, to the point where critics are anticipating an ugly collapse in the nascent industry.
The latest investment firm to bet on bikes is Florin Investment Group, a Chinese equity investment and debt investment company, which has led a RMB100 million (US$14 million) series A round in Qibei Tech, a bike sharing company operating in the city of Hangzhou. Existing investors, Chinese RMB fund Hunyuan Investment, also participated.
Less than 24-hours prior, Mobike, one of China's the two biggest bike sharing companies, stated that it has raised US$215 million in series D led by Tencent, while its biggest rival, ofo, raised US$130 million in series C led by CITIC Private Equity just three months ago.
Despite the competition, investors see Qibei Tech location in Hangzhou, home of Alibaba Group Holding Ltd., as a key positive factor for the company.
"Hangzhou is one of the best cities in the world for public bike development, and the strategy of Qibei Tech with its experienced team could make Qibei Tech one of the best in the industry," said Zu Junhua, a partner at Florin Investment Group.
Founded in July 2015, Qibei Tech allows users to rent a bike by simply scanning QR codes via its mobile app, and close the lock to return. The mobile app also shows the nearest bike available for rent.
Qibei Tech also said that it will cooperate with Zhima Credit, a personal credit rating agency operating under Alibaba's Ant Financial to make available 100,000 bicycles in Hangzhou. Users who have a  Zhima credit rating of over 750 can rent a bike without paying any deposit.
Earlier this year, the company has raised over RMB100 million in Pre-A round from an unnamed investor.
In 2016, a number of other smaller bike share start-ups raised venture funding as well. An investment unit Jiangsu Huaxicun Co., Ltd. led a RMB150 million (US$22 million) funding round in Ubike. Yiming Bike also raised tens of millions RMB from Chinese investors whose identities are unverifiable.
Industry watchers says 2017 will be a critical years for the bike-sharing industry as together these companies plan to deploy hundreds of thousands bikes in cities around China. It is currently unclear whether there be enough consumer demand to sustain the industry, possibly resulting in bigger operators buying out smaller competitors.