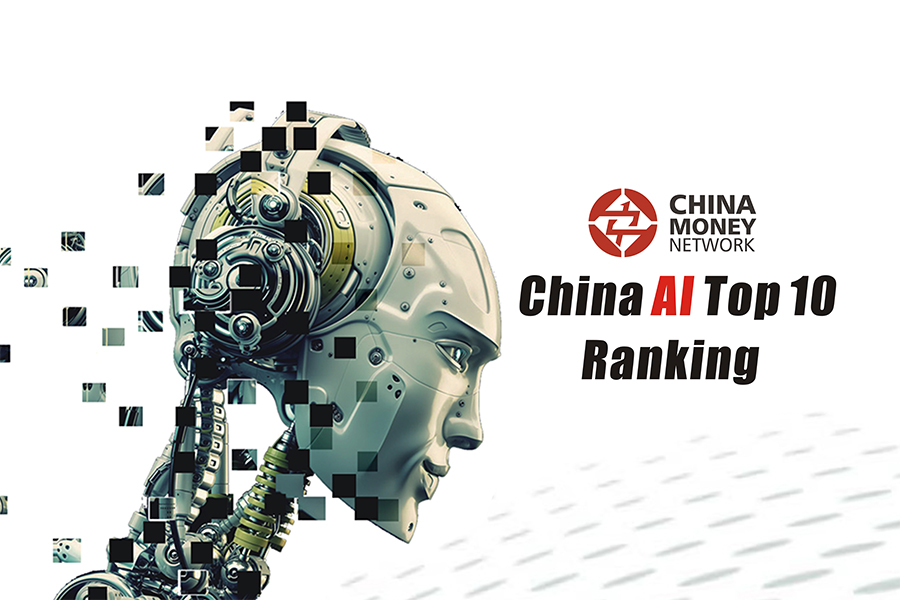 Think of China as the world's factory no more. The Middle Kingdom has been rising in technological sophistication at light speed in recent years, fueled by top-down policy encouragement and venture capital funding.
Ten years from now the world's second biggest economy – though China should already be the world's biggest economy long before that – could well be the leading power in the next exciting tech frontier: artificial intelligence (AI), projects Dr. Kai-Fu Lee, founder of Sinovation Ventures and former head of Google China.
Chinese authors already pen more academic papers on deep learning, a key AI category, than writers in the U.S. By Sinovation's estimates, around 43% of the most influential AI papers, taking up 55.8% of total quotations in the field, were authored by Chinese nationals or people with Chinese ancestry.
"Even though American, Canadian and European researchers are still the core group driving the AI revolution, China will soon become a solid pillar in AI research and commercialization capitalizing on its talent pool," states an AI white paper published by Sinovation in January.
The Chinese government has been quick to support the trend. Realizing the importance of AI, China's State Council has set objective for strategically important emerging industries, including new-generation information technology, to account for 15% of GDP by 2020.
Specifically, companies are asked to accelerate their research and development of AI hardware and software, including AI-based vision, voice and bio-metrics recognition, man-machine interface and smart controls, according to China's 13th Five-Year Plan.
Venture funding in AI companies has exploded as well. In the 12 months ending June 30, 2016, 202 Chinese AI start-ups raised around RMB6.8 billion (US$1 billion) in total, a record high. The number of AI companies receiving venture funding and their aggregate venture financing during 2015 and 2016 outstripped both aggregate deal volume and deal value for all previous years combined, according to a research report co-authored by Netease. In comparison, over 550 startups using AI as a core part of their products raised US$5 billion in venture funding globally in 2016, according to data from CB Insights.
China's technology giants such as Baidu, Tencent and Alibaba are moving into AI on a more formidable scale. Baidu has launched a US$200 million venture fund to back AI projects and hired renowned AI expert and former Microsoft executive Lu Qi to lead its AI push. Alibaba is already applying artificial intelligence to make personalized recommendations to online shoppers and improve efficiency in logistics and product delivery.
Chinese user adoption of AI applications is far ahead of any other nation. Alibaba says that 150 million users – equal to roughly half the U.S. population – have used its face recognition tool embedded in its financial affiliate Ant Financial's third-party payment service, Alipay.
Going forward, China's AI application market is projected to grow 50% annually in coming years, outstripping the 20% projected compound annual growth rate in the global market, according to a McKinsey & Co. report.
Against this backdrop, China Money Network is launching a China Top 10 AI Ranking for the first time. The ranking is based on a simple metric: Total venture financing raised and revealed by each company. Our reasoning is that each venture deal is the result of research into dozens or even hundreds of similar start-ups. As a vote of confidence, what else could weight more than investors putting money into a venture?
We also considered the quality of the investors in terms of their track record, performance and industry reputation. Government capital is not included as it may not be purely commercially driven. Only private companies are included. Those affiliated with publicly listed companies are excluded as well.
Lastly, we define AI companies as those whose core businesses are AI development and research, or those who rely on AI to power every element of their operations. With AI being applied and utilized in nearly every industry, we determined whether a company qualifies based on how central AI is in the company's operations. For example, online education and smart car companies, even though they incorporate AI technology to their products, were excluded from this list.
The final top ten list include three voice recognition companies and two facial recognition companies, indicating strong demand by Chinese companies from refrigerator maker to smartphone manufacturer eager to incorporate these functions into their products. Three companies are robotics firms, as China's strong manufacturing capabilities make the country an ideal place for making consumer-facing family robots. One company is in the healthcare sector while another provides AI-enabled marketing services.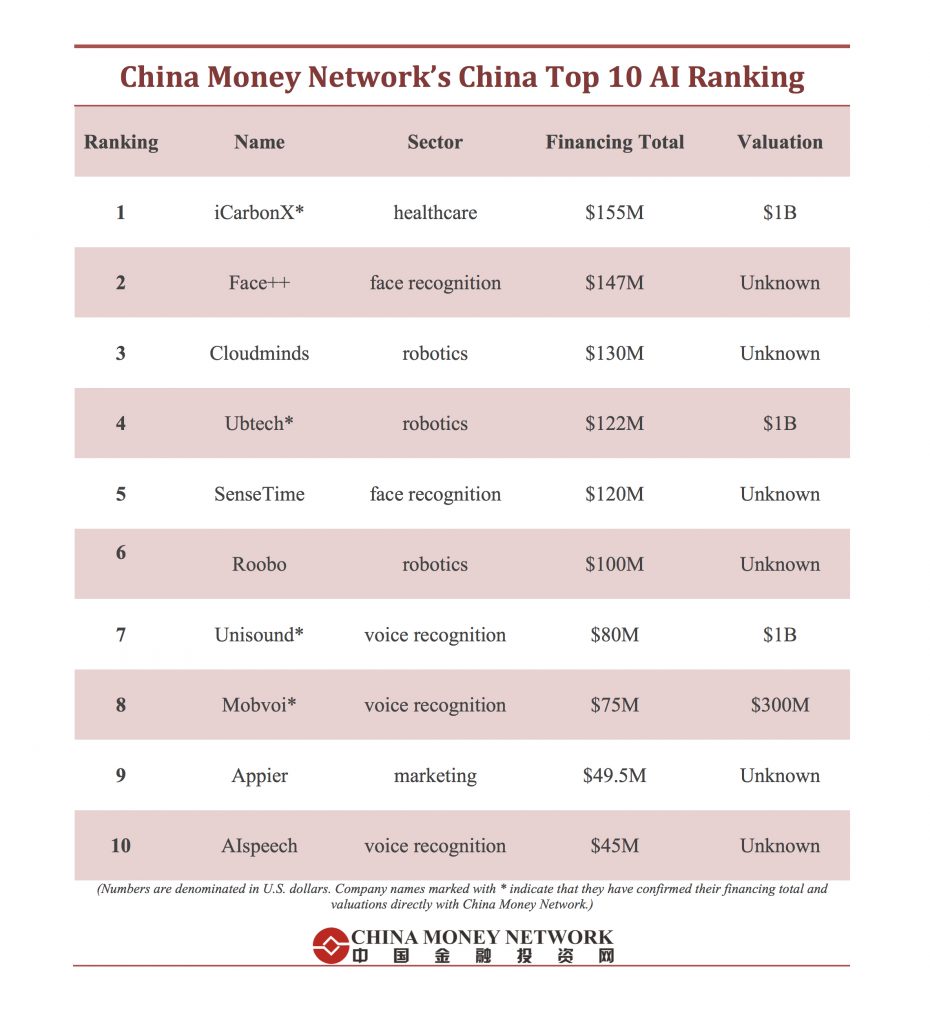 Below, we provide a profile of each company for further reading.
Ranking: Number 1
Company Name: iCarbonX
Field: Healthcare
Funding Total: US$155 Million
Valuation: US$1 Billion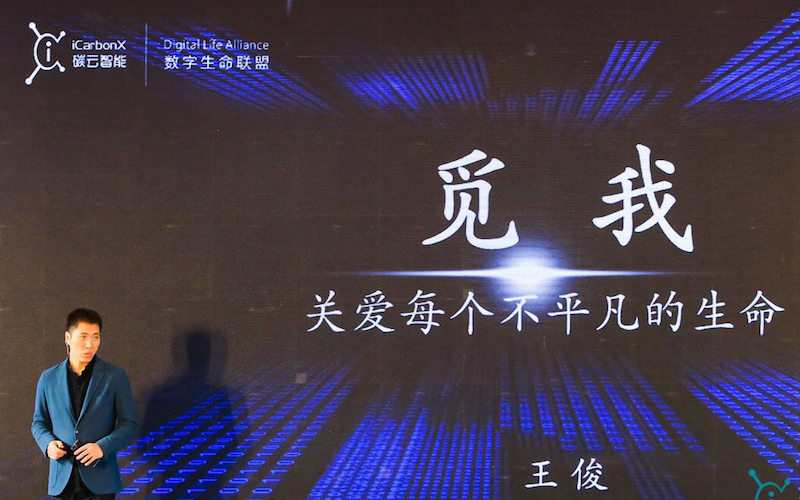 (iCarbonX announced plans in January to invest US$400 million in seven companies to form a Digital Life Alliance.)
Founded in 2015 by a team headed by Wang Jun, former chief executive officer at Chinese genomics pioneer BGI, iCarbonX aims to create an artificial intelligence-enabled platform for individuals to better manage their health and receive precision medical treatment.
The Shenzhen-based start-up, having raised RMB1 billion (US$155 million) in total from strategic investors Tencent Holdings Ltd. and financial backers including China Bridge Capital, is busy constructing a massive data pool incorporating proteins, bacteria, metabolites, DNA and numerous additional biological metrics. It then plans to utilize deep learning technology to study how health is maintained, why people get sick, and how to treat diseases using precision medicine.
Having achieved unicorn status just six months after establishment, the world's fastest to obtain a US$1 billion valuation, iCarbonX revealed a US$400 million investment in seven companies in January to form a Digital Life Alliance, an information ecosystem designed to fulfill founder Wang's vision of helping people better understand and manage their lives.
Ranking: Number 2
Company Name: Face ++
Field: Face Recognition
Funding Total: US$147 Million
Valuation: Unknown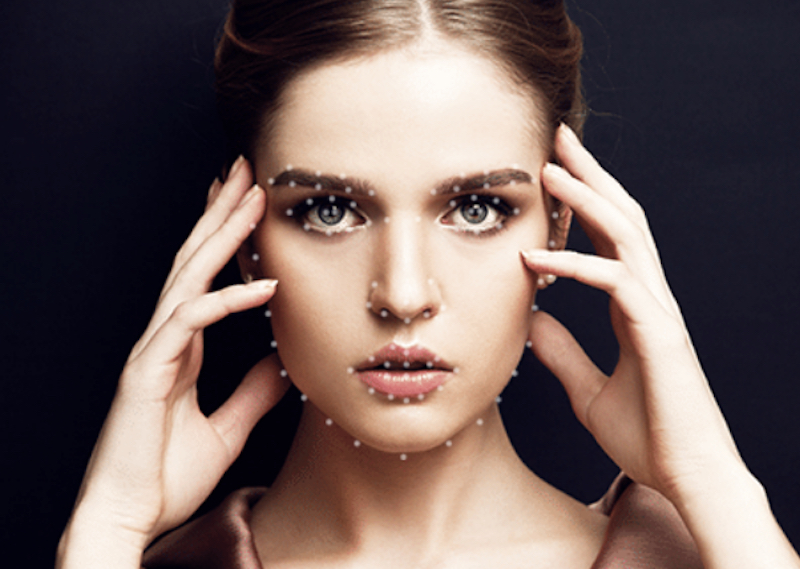 Face++ is best known as the face recognition technology partner of Ant Financial, Alibaba's financial services affiliate. Face++ powers the face scan function currently used by 150 million users of Alipay, Ant Financial's third-party payment provider, which has 450 million users in total. Its services are also used by other major Chinese technology companies including ride sharing giant Didi Chuxing, smartphone and photo retouch app maker Meitu, computer maker Lenovo and online dating portal Jiayuan.com.
The Beijing-based company, having raised US$147 million in total venture funding, claimed in 2014 that its human face recognition success rate was 97.27%, slightly higher than Facebook's 97.25%. There is no update on this information and the company did not respond to inquires from China Money Network to provide more details.
Operating under its five-year-old parent Megvii, Face++ provides application programming interface (API) that can detect facial appearance, age, as well as information on an ID card. Its solutions can also conduct face detection, face comparing and face searching.
Ranking: Number 3
Company Name: Cloudminds
Field: Robotics
Funding Total: US$130 Million
Valuation: Unknown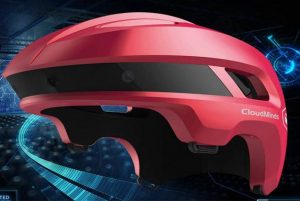 (Cloudminds' guide helmet for the blind helps the visually challenged to navigate their environment.)
Founded by the former head of research at China Mobile in 2015, Cloudminds is building robots and partnering with robot vendors to form a worldwide ecosystem of smart machines, as well as providing networks that function as the nerve transmission system for intelligent robots.
Founder Huang Xiaoqing believes that Cloudminds will become the artificial brains, eyes, ears, legs, arms and hands for the robots of the future, as humanoid robot will require a cloud system – hopefully provided by Cloudminds – to see, hear, listen, think and walk.
The company's only publicly revealed product is a guide helmet for the blind called META, designed to help the visually challenged navigate their environment, using GPS positioning, voice commands and image recognition.
With US$130 million in total venture funding raised from investors including electronics manufacturing giant Foxconn Technology Group and SoftBank Group Co., CloudMinds struck two partnerships within the past two months to create a virtual reality platform and build a 3D holographic reality experienced delivered on mobile devices.
Over the long term, the company plans to launch a full-service housekeeping robot to serve individual families.
Ranking: Number 4
Company Name: Ubtech Robotics
Field: Robotics
Funding Total: US$122 Million
Valuation: US$1 Billion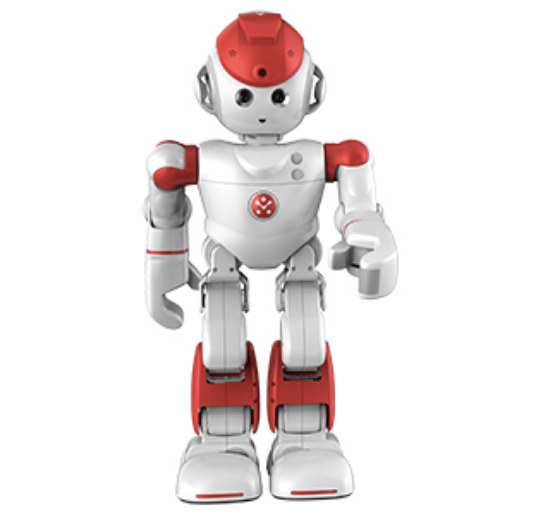 (Ubtech's Alpha 2 robot has more artificial intelligence capabilities, including voice chatting and simultaneous interpretation.)
Founded in 2012 in Shenzhen, Ubtech has launched a number of small humanoid robots for entertainment and education purposes. Its Alpha 1 Pro, Alpha 1S and Alpha 2 humanoid robots can dance, play music and make simple moves.
The company also has a do-it-yourself robot kit, Jimu Robot, which is currently being sold in Apple stores. The company plans to officially release a new product in partnership with Amazon's Alexa voice assistant system later this year.
With US$122 million raised from top investors, including CDH Investments, CITIC Securities, Qiming Ventures and Shenzhen-listed speech recognition company iFlytek Co., Ltd., Ubtech is the only robotics unicorn in China, being valued at over US$1 billion. The company's ultimate objective, after having perfected its small scale humanoid robots, is to make a human-size humanoid robot that can be a family member serving multiple purposes.
Ranking: Number 5
Company Name: SenseTime
Field: Face Recognition
Funding Total: US$120 Million
Valuation: Unkown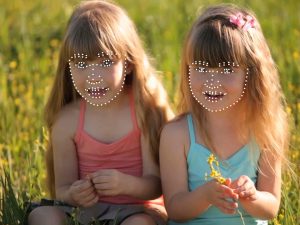 Founded in 2014, Beijing-based SenseTime is a competitor to Face++, and provides similar services for companies looking to incorporate face recognition capabilities into their products and services. It says its human face recognition technology has an error rate below of one in 100,000.
The company, with offices in Beijing, Shenzhen and Hong Kong, also provides text, vehicle and image recognition to mobile Internet companies, financial services and security companies.
With US$120 million venture funding from investors including CDH Investments, IDG Capital and StarVC, SenseTime claims China UnionPay, JD.com Inc., Huawei Technologies Co. Ltd. and Xiaomi Inc. as its clients.
Ranking: Number 6
Company Name: Roobo
Field: Robotics
Funding Total: US$100 Million
Valuation: Unknown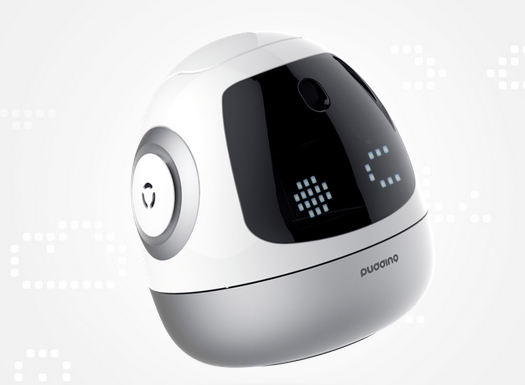 (Roobo's Pudding robot retails at RMB999 (US$145) and has voice recognition, chatting capabilities to serve as a family companion.)
Founded in 2014, Roobo makes a number of robotics products include an AI robot for kids called Pudding, head mounted virtual reality display Idealens, intelligent drone Skye Orbit, and smart sports headset Runbone.
The company, having raised US$100 million led by Shenzhen-listed speech recognition company iFlytek Co., Ltd., is also launching an AI pet companion robot called DOMGY, as well as a housekeeper robot with indoor navigation planning, sports control and remote control, facial recognition and voice control.
ROOBO's objective is to make a home service robot that can manage smart hardware and other Internet of things (IoT) devices at home, making family life more intelligent.
Ranking: Number 7
Company Name: Unisound
Field: Voice Recognition
Total Funding: US$80 Million
Valuation: US$1 Billion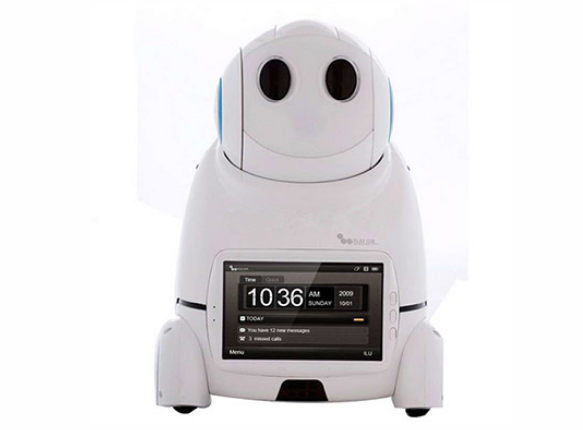 (Unisound's voice recognition technology is used by Chinese robotics firm Canbot.)
Founded in 2012, Beijing-headquartered Unisound provides voice recognition, language processing and big data solutions to home appliances, automobile, healthcare and education companies. It's Chinese language recognition solutions are used by LeEco's smart TVs, smart light company Uchao and Chinese robotics firm Canbot.
Having raised US$80 million from undisclosed investors, Unisound confirmed to China Money Network that its current valuation is US$1 billion. Its services currently have 180 million users, with its speech cloud system covering 470 cities in China.
Unisound's technologies are used to control home appliances such as air conditioners, televisions and robots using speech commands and without having to use any mobile apps. It is also used for in-vehicle navigation systems to power voice commands by drivers.
Ranking: Number 8
Company Name: Mobvoi
Field: Voice Recognition
Total Funding: US$75 Million
Valuation: US$300 Million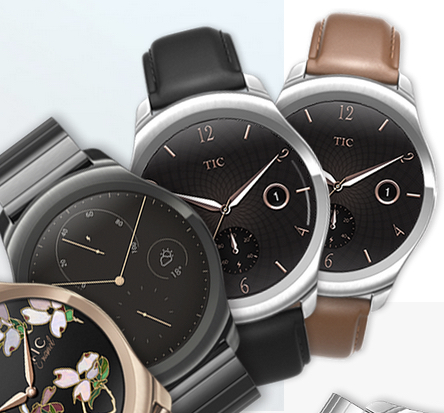 (Mobvoi launched its smart watch Ticwatch product in 2015.)
Mobvoi, also known as Chumenwenwen in Chinese, specializes in applying speech recognition and Chinese language processing to smart wearable devices.
Founded in 2012 by former Google research scientists Li Zhifei and Mike Lei, Mobvoi became a strategic partner to Google's Android Ware in 2015, providing Chinese language recognition and processing capabilities. At the same time, Google invested in Mobvoi to bring the company's total fundraising to US$75 million.
In 2015, Mobvoi launched its Ticwatch product, a smart watch powered by voice and gesture touch to handle emails, voice commands, task management, fitness tracking and contact directories. The company's technology is also used by in-vehicle systems, robots and smart home devices. It also has a voice driving assistant mobile app named Ticauto.
Ranking: Number 9
Company Name: Appier
Field: Marketing
Total Funding: US$49.5 Million
Valuation: Unknown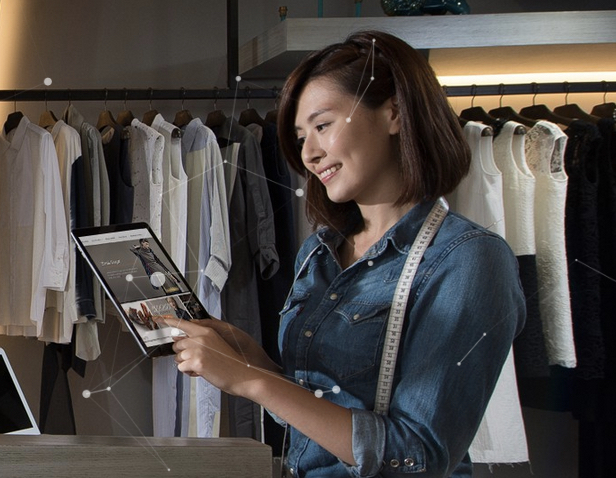 Founded in 2012, Appier is a Taiwan-based artificial intelligent company helping advertisers target key audiences in today's cross-screen era. It serves 500 global brands and agencies by helping them manage their online marketing campaigns across multiple screens as users increasingly use PCs, iPads and smartphones to conduct searches and make decisions.
With US$49.5 million in venture funding raised from top global investors such as Temasek Holdings and WI Harper Group, Appier's technology identifies which devices share a common owner by evaluating user behavior and patterns. It also builds behavioral profiles by modelling how people move between different screens; for example, what types of content they prefer and what time of day they browse on phones or tablets.
Ranking: Number 10
Company Name: AISpeech
Field: Voice Recognition
Total Funding: US$45 Million
Valuation: Unknown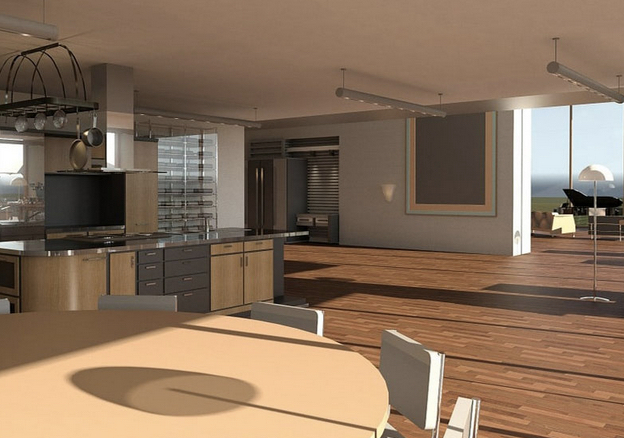 (AISpeech powers voice command capabilities for smart home device and appliances makers.)
Founded in 2007 by University of Cambridge graduate Gao Shixing, AISpeech provides speech recognition solutions for auto makers, smart home device manufacturers, robot makers and voice recognition functions used by mobile app developers.
Its tools are used by a number of companies including Sony's wristband, Chinese smart watch brand INwatch, Chinese smartphone maker Meizu and Chinese home appliances maker Haier, allowing users to perform certain functions by giving voice commands.
Suzhou city-based AISpeech has raised a total of US$45 million in a series B round form Alibaba Group Holding Ltd. It also raised a series A round worth tens of million U.S. dollars and an undisclosed series C round, which was not included in the total funding tally.
(China Money Network reporter Pan Yue also contributed to this article.)