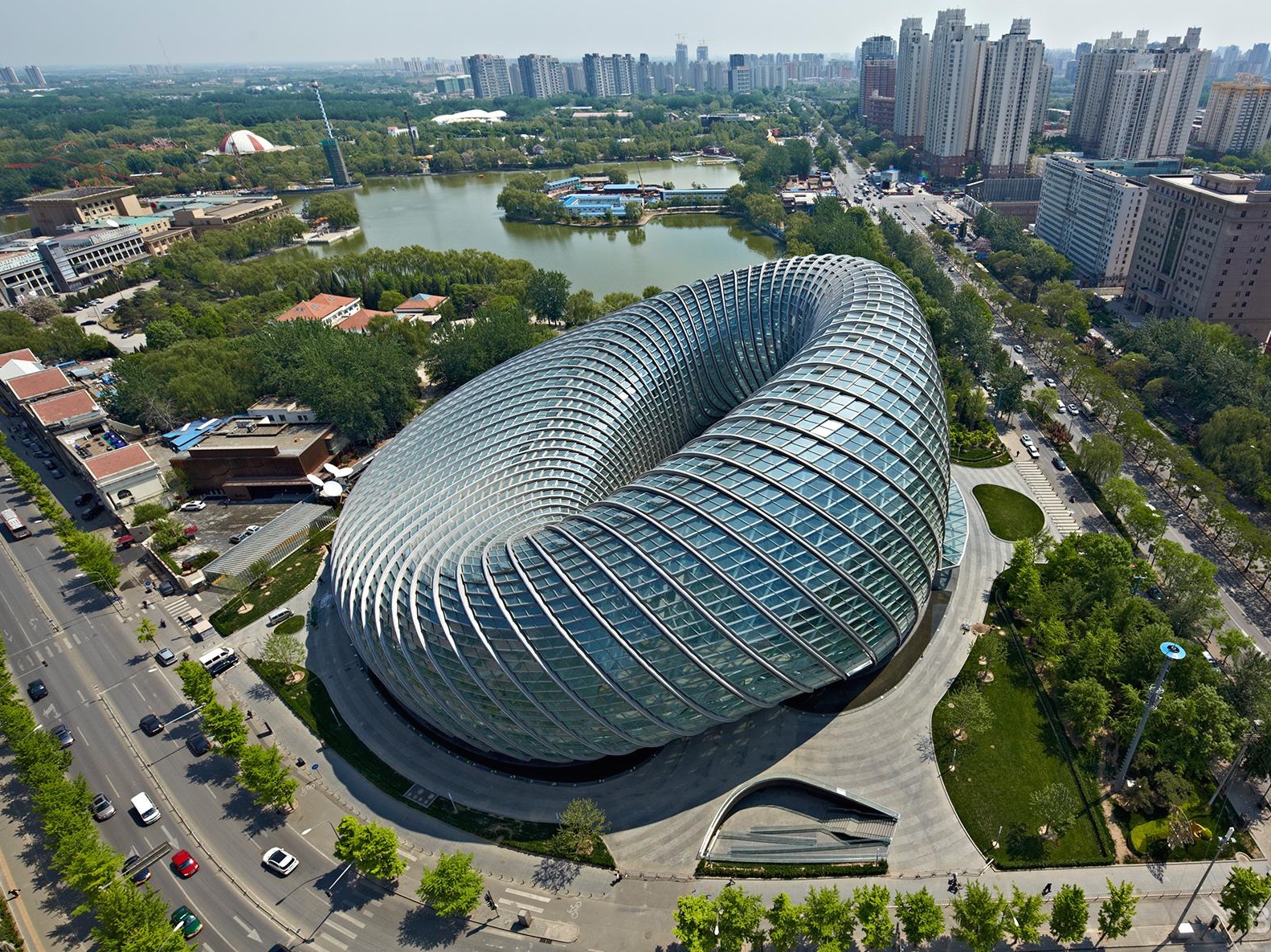 The rise of China's technological prowess is reflected in the size of its tech companies: Tencent is among the world's top ten biggest company by market value, while Alibaba completed the world's biggest IPO two years ago when it listed in New York.
But a more tangible reflection of Chinese tech giant's growing status and ambition is can be seen in the building they are constructing to house their future. China's largest tech companies, Alibababa, Tencent, Baidu and Xiaomi, have recently or are currently building headquarters whose size and architectural bravado match their grand ambitions.
These new headquarters, as futuristic as Apple's spacecraft-shaped campus or Amazon's spherical glass buildings, incorporate the newest technologies and display the emerging prowess of their owners. They will transform the physical looks and feel of these companies as they rise on the global stage.
Here, China Money Network lists seven amazing tech company headquarters recently completed or currently under construction.
Tencent Holdings Ltd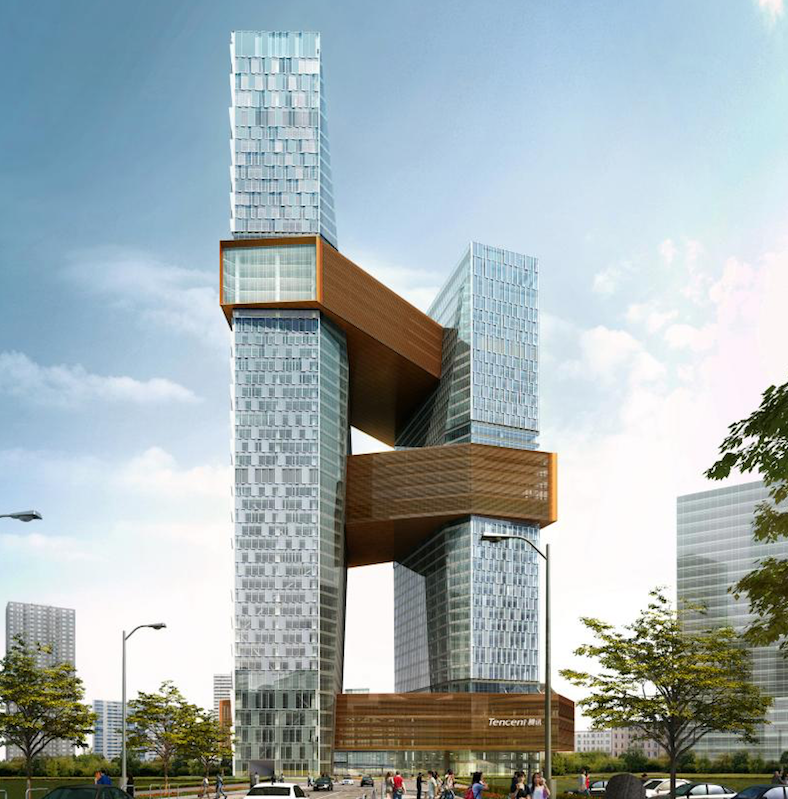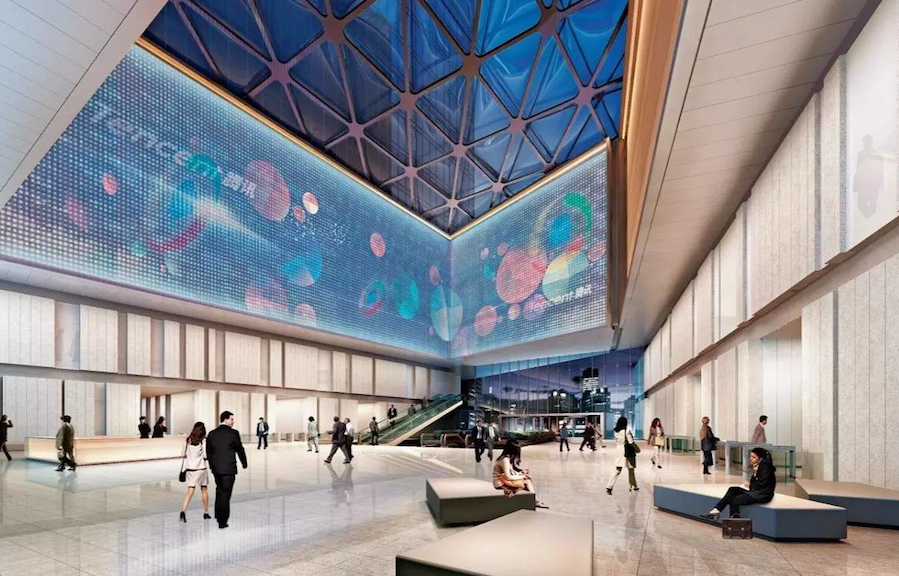 Tencent's new headquarters, located in Southern city of Shenzhen, is designed by U.S. architecture firm NBBJ and features two towers, three horizontal connection bridges and rooftop gardens. The two towers, one with 50 floors and the other 39, makes the structure look like two giant robots embracing each other. The linked configuration is designed to stimulate movement and exchange within the workplace, as well as reflecting the company's networked culture and the inter-connectivity of the web.
The US$599 million project, which is 250 meters high and covers 270,000 square meters, features a variety of emerging technologies. It contains holographic tour guides and automatic adjustment of conference room temperatures based on attendance. Face recognition is used to access the building. The company's popular social networking app WeChat helps people to find parking spaces, and serves as a tool to enter and control elevators.
Aside from providing space for 12,000 additional employees, Tencent is using the new headquarters named Tencent Seafront Tower as a test ground for its new technologies such as Internet of Things (IoT).
"How to incorporate our culture and products into the new building is the main concern for me and our core principal. Our building is the largest beta test ground for our products," said Wan Chao, general manager of planning and design department at Tencent, during a company radio program.
The new headquarters, which is expected to be completed in June of this year, will be a statement of Tencent's rise in the technology world. From its start as instant messaging service QQ in 1998, Tencent has evolved into a technology giant worth HK$2 trillion (US$271 billion). The new building will be a symbol matching Tencent's glory.
Alibaba Alipay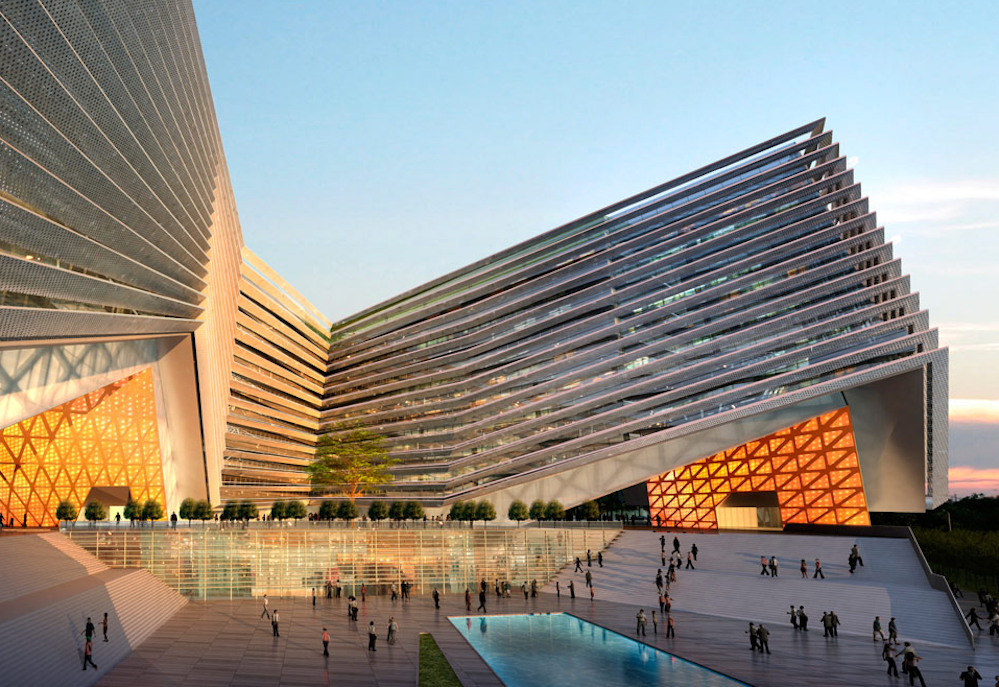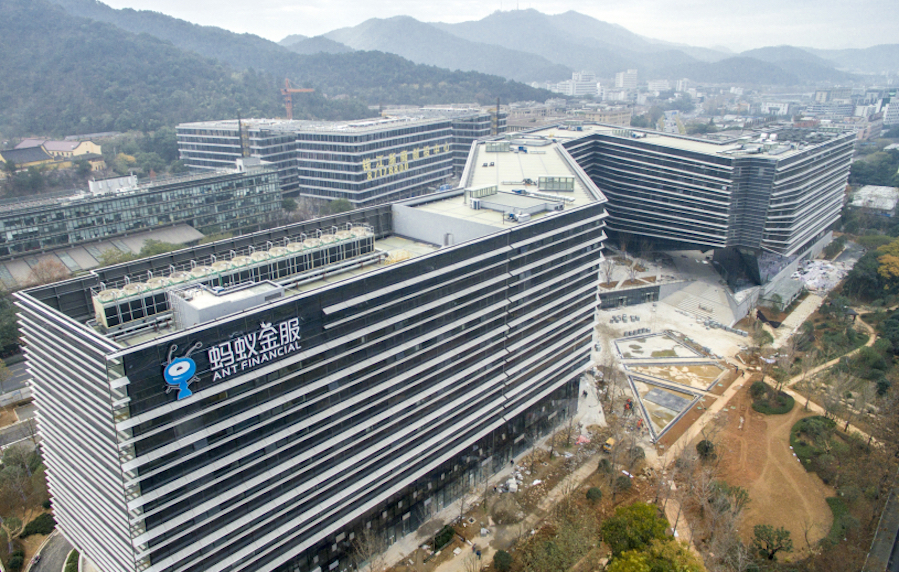 After completing an impressive headquarters for the entire Alibaba group in 2013, the Chinese e-commerce giant is building a more spectacular Z-shaped headquarters for its third-party payment unit Alipay in the West Lake district in Hangzhou, its birth city.
Also designed by U.S. design firm NBBJ, the headquarters cover 80,000 square meters and can provide space for 8,000 staff. Beside offices, it contains supporting commercial facilities including a public square and over 7,000 square meters of greenery for outdoor leisure activities.
The RMB1.1 billion project will be a flexible structure to accommodate additional tenants and future adjustments. Alipay provides payment solutions for more than 500,000 merchants, and has over 550 million users conducting 8.5 million transactions per day. Founded in 2004 with only 22 employees, Alipay today has 3,600 staff.
In addition to Alipay's headquarters, Alibaba's own office is currently in the south part of Hangzhou. Last month, the company said that it plans to build a new group headquarters, to be designed by NBBJ, in the Xixi district in Hangzhou. Taobao, its e-commerce platform, has its headquarters named Taobao City in the same district.
Baidu Inc.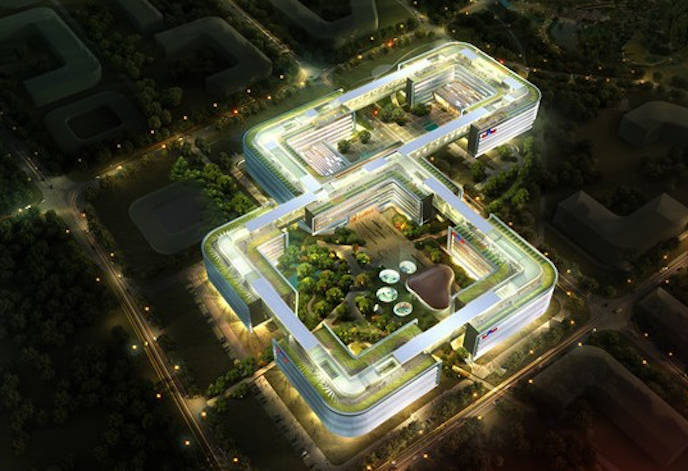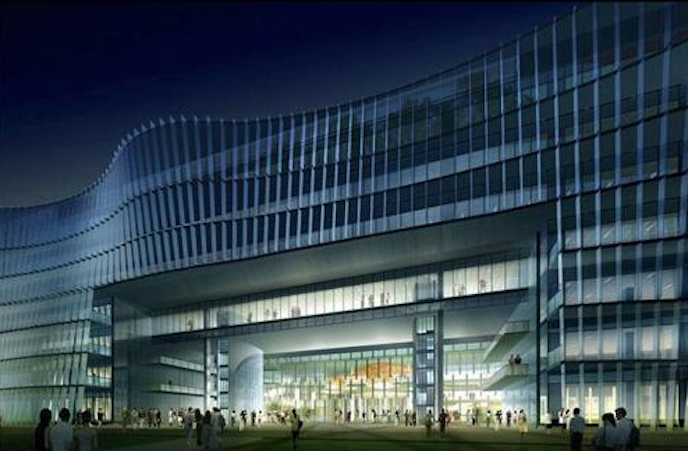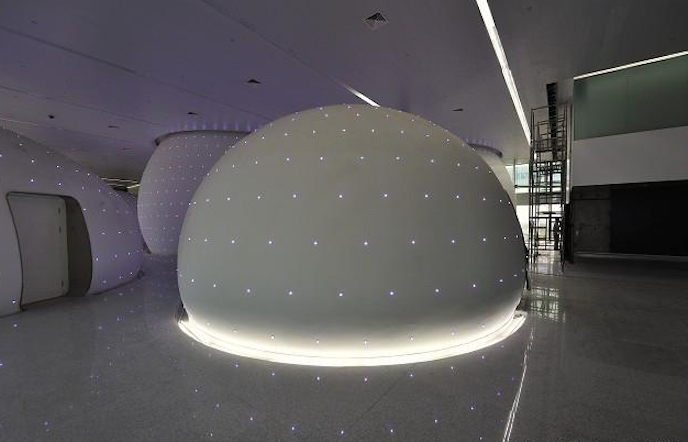 Baidu built its headquarters, Baidu Technology Park, in 2014, in Zhongguancun Science and Technology Park in Beijing. The building is shaped like the symbol of infinite "∞", which is meant to represent the infinite future of Baidu.
The building also looks like a Mobius Strip, a surface with only one side and only one boundary. The concept was applied by many architects to demonstrate a place where there is no specific boundary between the inside and outside. A number of well-known buildings including the world's first 3D printed house, Landscape House and Mercedes-Benz Museum, all used this concept.
Baidu's headquarters cover more than 300,000 square meters and consist of five buildings. They were connected by a total of 80 meters of steel bridges, called the Baidu Chain, making it easier to walk cross and access different buildings.
Similar to its U.S. peer Google, Baidu's offices feature climbing walls, swimming pools, restaurants and table tennis rooms. Baidu also wanted its work space to be fun, reportedly adding a three story-high slide inside the project's second phase and also a "sleeping egg" (third picture above).
Although Baidu wanted the headquarters to showcase its bright and infinite future, the company has struggled to catch up with its peers. At the end of March, Baidu's market value was only US$59 billion, less than a quarter of Alibaba's US$269 billion and Tencent's US$271 billion.
Sina Corporation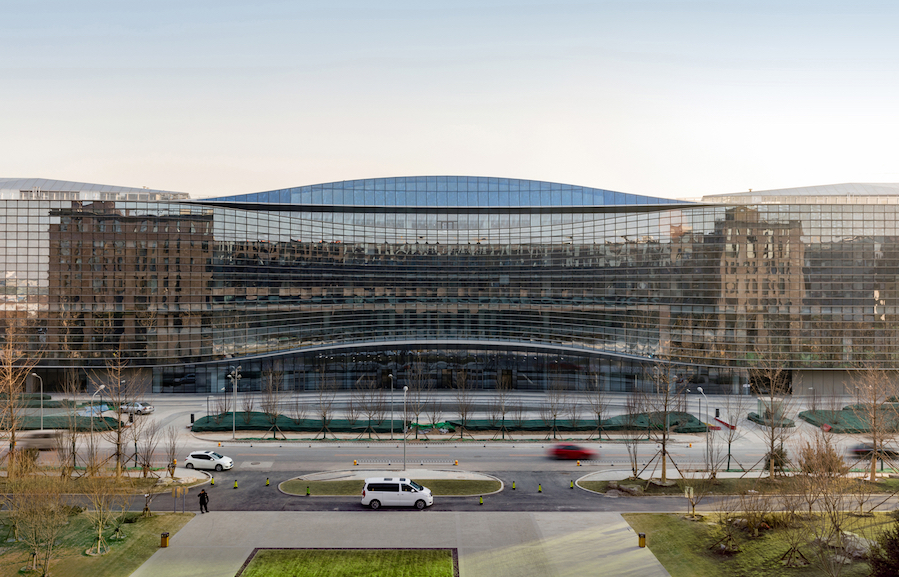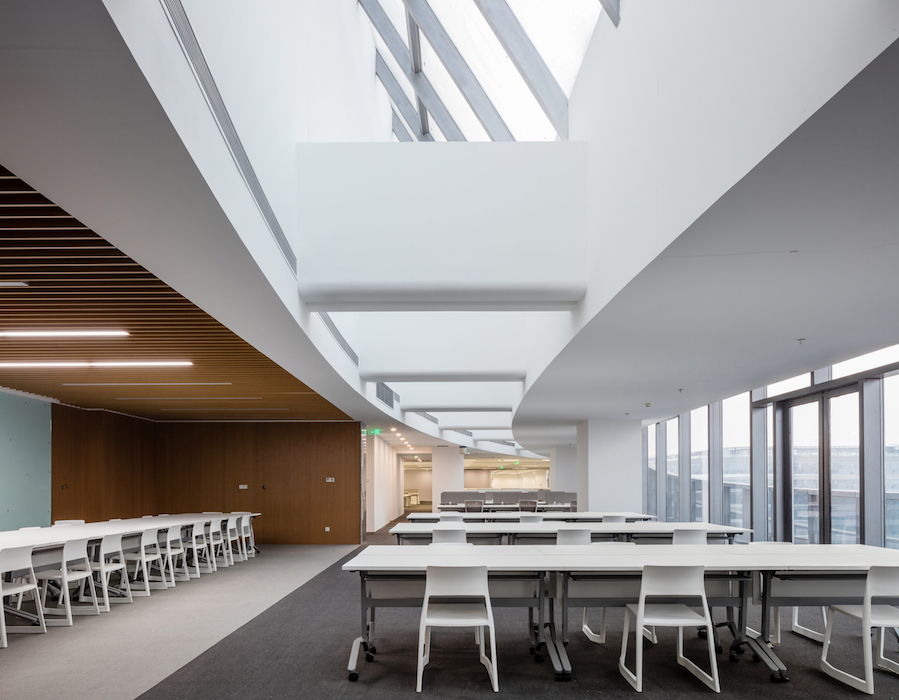 Sina's 5,000 staff, who previously worked in four seperate buildings in Zhongguancun Science and Technology park, moved to its new headquarters in Beijing last July. The new headquarters is located next to NetEase and Tencent, while Lenovo and Baidu are also nearby.
"Limitless" is the core design concept of the building, named Sina Plaza. Designed by Aedes, an international architecture firm, it is similar to Baidu in that the building also reflects the infinity symbol "∞".
It contains two working space, like two traditional Chinese courtyard gardens. At the entrance and the center of the headquarter, there is the company's logo "Eye of Sina", an atrium space serving as the main vertical circulation hub featuring a 12-meter high screen broadcasting the latest information on Sina.com and its Twitter-like service, Weibo.
The headquarters are six-story high and cover 130,000 square meter. Inside the building, there are cafes, book stores, gyms and nursing rooms.
The 19-year-old company is doing well. NASDAQ-listed Sina recorded net revenues of US$1 billion, up 17% year-on-year, while Sina Weibo, also listed on the NASDAQ, recorded net revenues of US$655 million, up 37% year-on-year. The number of Weibo's monthly active users also experienced a rapid growth last year. As of the end of the third quarter of 2016, it reached 297 million.
Xiaomi Inc.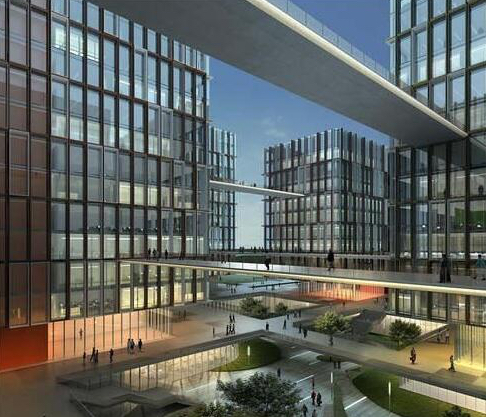 Xiaomi's new headquarters, also located near Beijing's Zhongguancun Technology Park, began construction in 2015 and is expected to be completed in 2018.
The new headquarters consists of eight buildings, and will provide space for the company's staff as well as a number of companies under Xiaomi's ecosystem, including Xiaomi portable charger developer Zimi Technology, Mi Band developer Huami Technology and Xiaomi air purifier developer Zhimi Technology.
The 340,000 square meter projects will also contain a number of facilities including a culture center, gym and roof-top garden.
"Xiaomi's first five years in Beijing was like a lonely leaf drifting in the air. We started in Yingu Mansion, and then moved to Juanshi Mansion, Hongyuan Mansion and Wucai Mansion, and we also rented four buildings around Wucai. We moved almost once a year. Finally we will have a real home in Beijing," said Lei Jun, founder and CEO of Xiaomi, in his Weibo account about the new headquarters.
Started as a smartphone marker, Xiaomi now also developes tablet, laptop, television, drones and a number of smart hardware, in addition to making its own smartphone chips.
Phoenix Satellite Television Holdings Ltd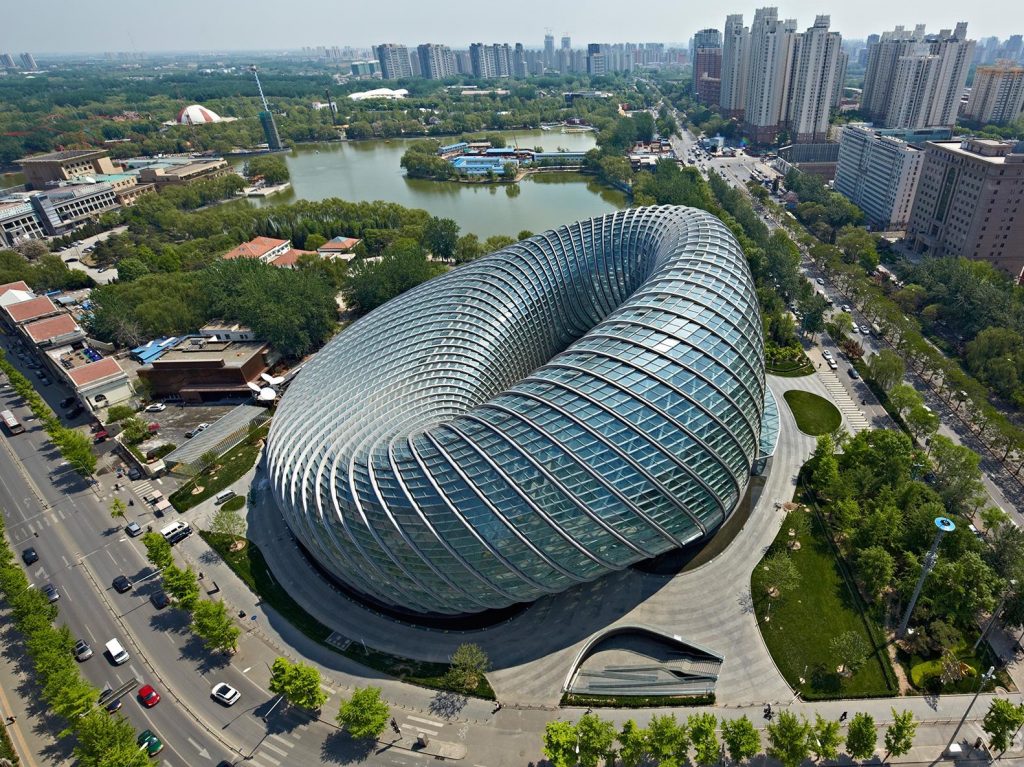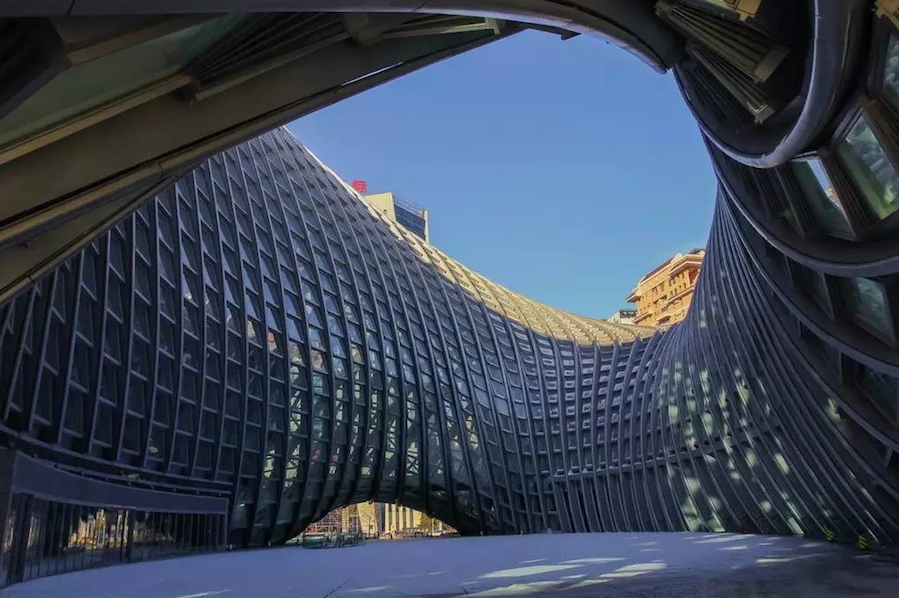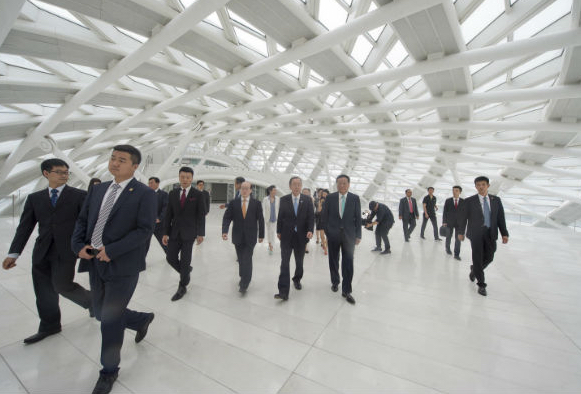 The Beijing headquarters of Chinese television and online media giant Phoenix Satellite Television Holdings Ltd. also utilizes the concept of the Mobius Strip, similar to Baidu. The giant building is shaped like two phoenixes embracing each other. Its glass surface reflects the city's streets, trees and buildings, in a metaphor to the concept that media reflects one's society.
Designed by architectural firm BIAD, who also designed Xiaomi's new headquarters, Phoenix's headquarters is 55 meters high and covers over 75,000 square meters. It contains a 12-floor main office and a six-floor broadcasting office, with the two areas integrated smoothly with the Mobius Strip design. Inside building, there is huge lift directly connecting to the top.
The most interesting part of the building is that it does not have a single rainwater pipe. The rainwater will fall along the main pillar to a rainwater collection pool at the bottom of the building, and the water will be used for the flowers and trees in the building and the gardens.
Founded in 1993, Hong Kong-listed Phoenix TV is known for its popular talk shows. The company currently has over 360 million audience globally.
NetEase Inc.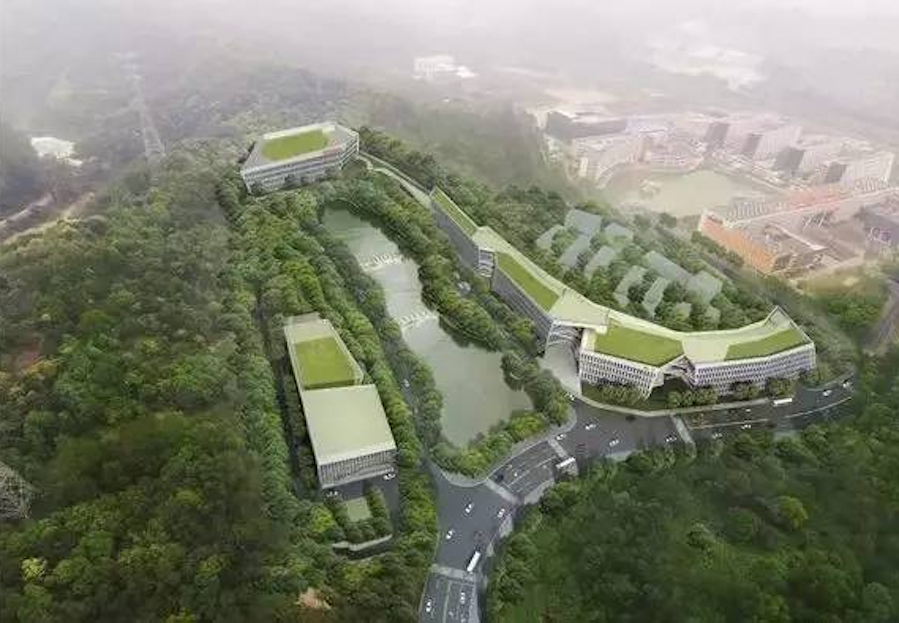 Chinese Internet company NetEase started to build a new headquarters last August in Tianhe Software Park in Guangzhou city. The project, surrounded by forests and featuring green roof-top gardens, is expected to be completed in 2018.
The RMB500 million (US$730 million) project consists of two areas, one containing a four-floor office and one-floor office, and another a three-storey multiple-use space. Once completed, the new headquarters will provide working space for around 5,000 employees from NetEase's online game unit.
The building covers 53,000 square meters and features a number of facilities, including restaurants, gyms, stadiums and cafes.
Huawei Technologies Co. Ltd.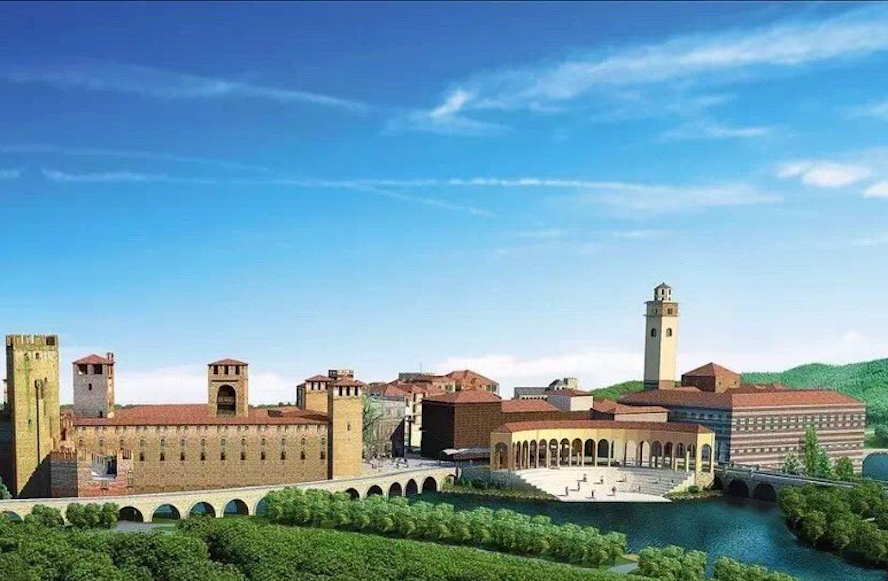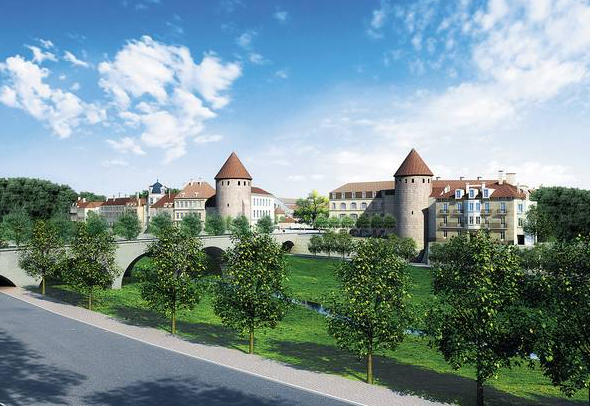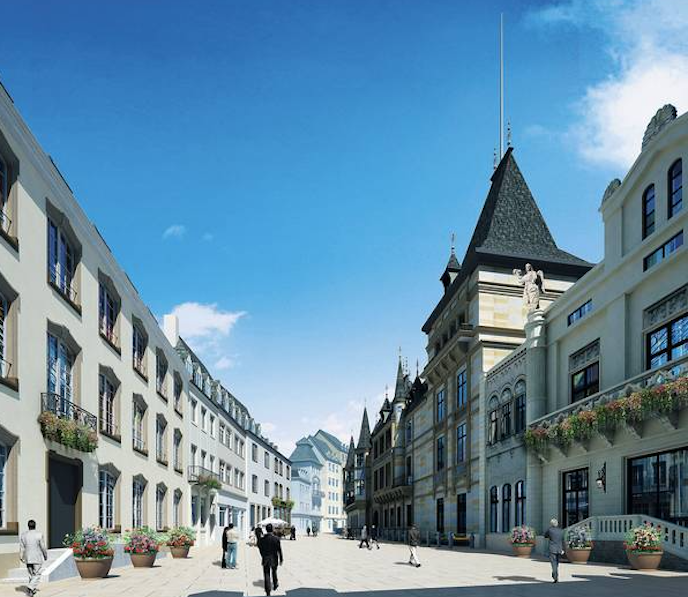 Chinese telecommunications company Huawei Technologies Co. Ltd. is building an European style headquarters near Shenzhen featuring 12 building clusters, with each mimicking a European city, from Luxembourg to Pesky Krumlove in the Czech Republic.
The project, expected to be completed in 2018, has met widespread criticism and ridicule. Some question the logic behind a Chinese technology company's headquarters to be styled after traditional European architecture, others say the project is a complete set-back in China's pursuit to move beyond copy-cat behavior and to nurture local innovation.
The reportedly RMB10 billion (US$1.45 billion) project is located in the Songshanhu Science and Technology Park in Dongguan near Shenzhen. The 12 building clusters are connected by traditional European-style trains for easy access, creating a mini-European city right in the middle of China's manufacturing base.
Huawei bought the 230,000 square meter land for RMB117 million (US$17 million) in 2012, and started construction in 2014.
Once completed, around 30,000 staff from Huawei's smartphone unit will move to the new site, a 230,000 square meter land Huawei bought for RMB117 million (US$17 million) in 2012.
Despite the headquarters design snafu, Huawei is doing well financially. The telecommunication and smartphone maker recorded revenues of RMB521 billion (US$75 billion), and is now the world's third largest smartphone maker behind Apple Inc. and Samsung.