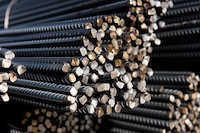 Ouyeel, an online steel transaction platform established by Shanghai-based state-owned China Baowu Steel Group Corp., Ltd., has raised over RMB1 billion (US$140 million) in a new funding round from Chinese investors.
Major Chinese steel companies including Liaoning province-based Benxi Steel Group Corp., Beijing Shougang Fund Investment Company, a unit of Shougang Group, as well as Global Logistic Properties Ltd., CCB Trust Co., Ltd., Jiangsu Shagang Group Company Ltd. and Mitsui & Co., Ltd. participated in the round.
China is the world's largest steel producer and consumer, accounting for around half of the world's total production. China will produce 825 million metric tons of crude steel in 2018, and consume 87% of this production total inside its own boarders, according to BMI Research.
This has generated a number of steel sector-focused e-commerce platforms. A similar steel e-commerce platform, Shanghai-based Zhaogang.com, completed a RMB1 billion (US$153 million) series E financing round from undisclosed investors in 2016.
Founded in 2015, Ouypeel's platform provides a wide range of services including industry news, transactions, logistics and storage, processing, investment and fundraising, and financial products to steel companies.
In 2016, the platform recorded steel transaction volume of 38 million tons, up 200% year-on-year. During the same year, its logistic system covered 1,208 companies, delivering 17 million tons of steel. The transaction value of its financial products reached around RMB20 billion (US$3 billion) last year.
The company plans to use the latest proceeds to integrate its infrastructure including storage, logistics and processing capabilities. It also plans to expand into overseas markets.