As more Chinese companies go public it's becoming increasingly clear that many of them have lied about the level of funding they received as private companies, and thus their pre-IPO valuations.
The latest example is Rong360 Inc., once listed on China Money Network's China Unicorn List with a US$1 billion valuation. The company is planning a U.S. listing for its wholly-owned subsidiary Jianpu Technology Inc., raising up to US$200 million, according to its IPO prospectus filed with the U.S. Securities and Exchange Commission.
However, a review of the 230-page prospectus shows that the company exaggerated all four of its funding rounds, by an average 40%. It also proved that Rong360 never achieved unicorn status, a term used to describe a private company valued at US$1 billion or more, as it claimed to be.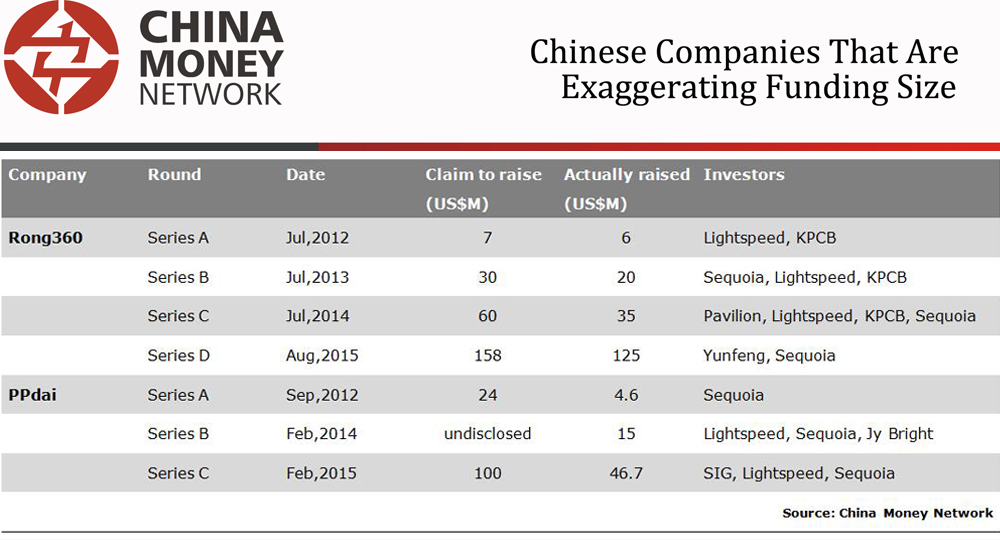 A case of one Chinese company inflating its pre-IPO valuation wouldn't be that much of a big deal. But a review by China Money Network of several other recent IPO's shows that less-than accurate reporting by private companies may be commonplace. For example, both Chinese peer-to-peer lending platform PPdai, which completed an IPO earlier this month, and e-book mobile app developer Zhangyue, also lied about their past financing rounds.
The trend is significant given the number of Chinese companies going public. During the first half of 2017, a total of 312 Chinese firms completed a public float, up 203% year-on-year. Among them, 158 companies were backed by venture capital and private equity firms, allowing a total of 455 investment firms to exit with an average of 2.69 times return, up 35.86% compared with second half 2016, according to data from a ChinaVenture's report. Along with operational details and risk factors, these companies must disclose their past financing as part of disclosures required to become publicly traded companies.
Prior to its IPO, Rong360 claimed that it had raised four funding rounds of US$7 million, US$30 million, US$60 million and US$158 million respectively. But in fact, it only raised US$6 million, US$20 million, US$35 million and US$125 million. The valuation of the D round in 2015 was especially significant, as at the time the company said it gave it a US$1 billion valuation, earning it coveted unicorn status. In fact, according to the prospectus, its series D round saw Yunfeng Capital acquire a 6.8% stake for US$55 million, valuing the fintech company at just US$808 million post-money.
Likewise, PPdai previously claim to have raised US$24 million and US$100 million respectively in series A and series C rounds. It did not disclose the dollar amount of its series B round. However, according to its prospectus, it only raised US$4.6 million and US$46.7 million respectively in the two rounds, a mere 41% of the amount that it claimed to raise.
And while Zhangyue publicly announced in 2016 that it had raised a financing round of US$100 million at a valuation of US$1 billion, it turns out that it raised only RMB400 million (US$60 million) at a valuation of RMB4 billion (US$606 million), according to its filing.
To be sure, not all Chinese companies lie about their VC financing. Qudian, a provider of online consumer credit products backed by Ant Financial, which just completed a US$900 million listing on the New York Stock Exchange, disclosed in its IPO prospectus that all its venture rounds were exactly the same sizes as it announced in the past.
Yet investor should remain vigilant given the number giant IPO's planned by Chinese companies in the coming months. Ping An Insurance-backed fintech company Lufax is reportedly seeking an IPO on the Hong Kong Stock Exchange this year to raise roughly US$5 billion. Dianrong, backed by Tiger Global Management LLC and other investors, reportedly is planning to list on a U.S. stock exchange in 2018. The prospectuses for these and other IPO's will make for interesting reading, and will likely expose additional examples of companies exaggerating their VC financing successes.