China's government-backed investment funds may be history's greatest experiment in using state capital to reshape a nation's economy. More than 1,000 such government budget-seeded vehicles now seek to leverage up to RMB5.3 trillion (US$798 billion) in capital, a figure equal to 32% of all assets managed by the global private equity and venture capital industry, 7.1% of China's gross domestic product, or slightly more than the GDP of the Netherlands, the world's 18th largest economy.
Contrary to Adam Smith's famous "invisible hand" analogy, China's government guidance funds are a very visible force in the economy and are expected to have a major impact on both Chinese industries and investment space, which will inevitably have a global impact. Jia Hongbo, secretary-general of the Asset Management Association of China, has predicted that guidance funds will become important limited partners for private equity and venture firms, and influence the whole fundraising, investment, post-investment management and exit process of the private investment industry in China.
Understanding these vehicles will be crucial for international investors and companies wanting to know where China's future investment opportunities lie, and how to work with the most powerful "smart money" in the soon-to-be largest economy of the world. With that in mind, China Money Network has conducted the most thorough review and analysis of these government funds to date to create the China Government Fund Ranking.

A Historical Perspective
State capital has long played a guiding role in the Chinese economy. But, the government funds that increasingly dominate today's market are part of a unique, decade-long phenomenon known as "Guo Jin Min Tui (国进民退)", where the state has advanced its role in the Chinese economy while the private sector retreated. This new era began around 2008 when the global financial meltdown and the Beijing Olympics heightened the importance of the state apparatus. The Chinese private sector, having completed its historical mission of reviving the former planned economy, was gradually pushed from center stage, while state-owned "national champion" enterprises are now expected to become the new torch-bearers of China Inc. 2.0. Chinese government funds serve as high-octane fuel for this economic, financial and political transition.
It's unclear when and how the earliest government investment vehicles were organized, but Zhongguancun Venture Guidance Fund, founded in 2002 in Beijing, is widely considered the first government co-investment fund in China. The model caught on, and China's State Council first used the term "government guidance fund" in a policy guideline statement in 2005, officially recognizing the role of these funds to support the venture capital industry. Initially, the funds made direct investments in companies. But, they soon found that such direct investments were riddled with conflicts of interests and disrupted market order.
"In the early days, government guidance funds were not only making direct investments but were also much smaller, with the largest guidance fund in Guangdong province having only RMB1 billion. The rest of them had only RMB200 million or RMB300 million in capital," Sun Dongcheng, president of Shenzhen Capital Group Co., Ltd., one of the largest government-backed venture capital firms in China with RMB218 billion (US$33 billion) under management, said at a conference earlier this year.
So, in 2008, the National Development and Reform Commission officially defined guidance funds as "a type of policy fund that is established by the government and managed in market-oriented fashion with the aim to…attract more capital investing in start-ups." Most importantly, government guidance funds were not to make direct investments, but serve as seed or anchor capital for the establishment of one or a group of fund-of-funds, which incubate a cluster of subsidiary funds with the participation of private capital to make direct investments in companies.
Since then, the government guidance sector has seen explosive growth, especially during the past three years. At the end of 2016, there were over 1,000 guidance funds in China, aiming to raise subsidiary funds with an aggregate fundraising total of RMB5.3 trillion (US$798 billion), up 30% and 144% year-on-year, respectively, according to a Bank of China report. The number and fundraising targets of funds launched in 2016 exceeded the combined number and fundraising targets of all funds established from 2013 to 2015.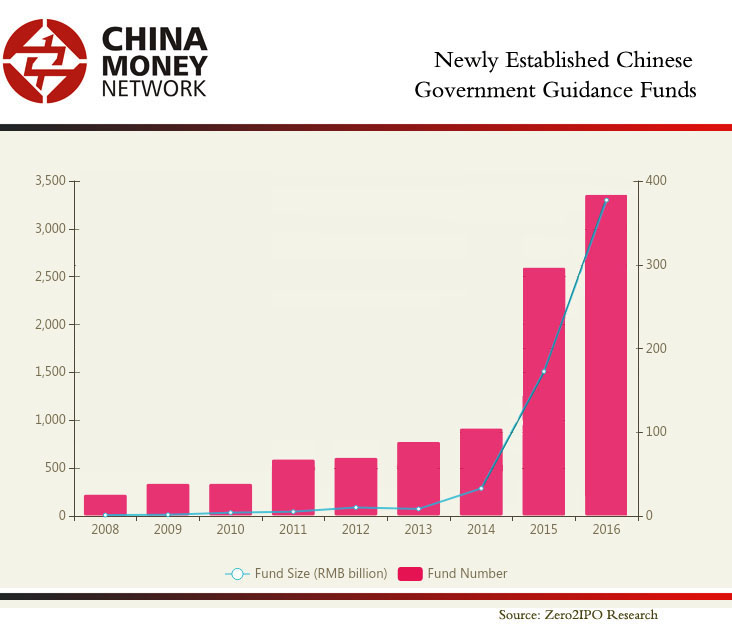 Key Takeaways
The most relevant information for the international investment and business community is where these government funds are investing. As to be expected, the most targeted sectors are areas where China hopes to innovate, such as Internet, big data and clean energy. But not all targets fall into these categories, with hospitality, pharmaceuticals, infrastructure and agriculture also cited. This information as a whole offers clear signals on where future business cooperation and investment opportunities lie. It is also interesting to see which private venture funds have partnered to co-manage government funds.
A notable trend is that government guidance funds are getting larger. As of December 2016, 44 government guidance funds had fundraising targets of over RMB10 billion at the subsidiary fund level. Together, these 44 funds are targeting total capital raising of RMB1.3 trillion, meaning 4.4% of all guidance funds are aiming to raise 25% of the capital among the largest funds on our list, according to Chinese fund data tracker CVSource.
Another new phenomenon is the emergence of massive policy funds established by the government with a mandate to make direct investments to support a single policy initiative or industry. Examples include the Silk Road Fund, a US$40 billion state-owned investment fund to foster investment in countries associated with the One Belt, One Road development campaign, and the National Integrated Circuits Industry Investment Fund that has RMB139 billion (US$21 billion) of capital in its first phase. As a higher percentage of policy funds can make investments both inside and outside China, we have created a separate list of the largest policy funds to accompany the main ranking.
Within China, the distribution of government guidance funds is not even. Funds in the Beijing-Tianjin-Hebei delta, the Yangtze River delta and the Pearl River Delta accounted for half of the total number of guidance funds in China in 2016, according to the Bank of China's report. Most of China's largest guidance funds are in the more developed eastern coastal region, with 11 out of 22 largest guidance funds on our ranking hailing from this part of the country. Guangdong province, with the largest GDP in China, is home to five of the largest funds on our ranking and three of the largest national level guidance funds.
But China's western regions are catching up, with Hubei, Sichuan and Xinjiang province setting up massive guidance funds. Xinjiang Uyghur Autonomous Region PPP Government Guidance Fund is ranked third on our list, aiming to raise RMB100 billion on the fund-of-funds level.
Our Methodology
After digging deep into government records, we discovered that there has been significant misunderstanding and confusing data in past studies of government guidance funds. The structure of these funds is complicated, information is often incomplete or undefined, and there is often a wide gap between what these funds want to achieve and what can be realistically accomplished.
The most common structure of government guidance funds is a two-tier framework: the top tier is a single or a group of fund-of-funds (母基金), anchored with allocations from the fiscal budget of the central or local governments. The second tier is a cluster of subsidiary funds (子基金) seeded by the top-tier fund-of-funds. The top-tier fund-of-funds often have a total fundraising size (总规模), while the aggregate fundraising total of the subsidiary fund cluster is referred to as "total leveraged social capital" (撬动社会资本总额). The total leveraged social capital is usually around five to a dozen times that of the top-tier total fundraising size, but can sometimes be as much as several hundred times the size. Government documents describing the funds were often filled with enthusiastic language praising the power of "enlarging government capital", as if discovering the magic power of leverage for the first time.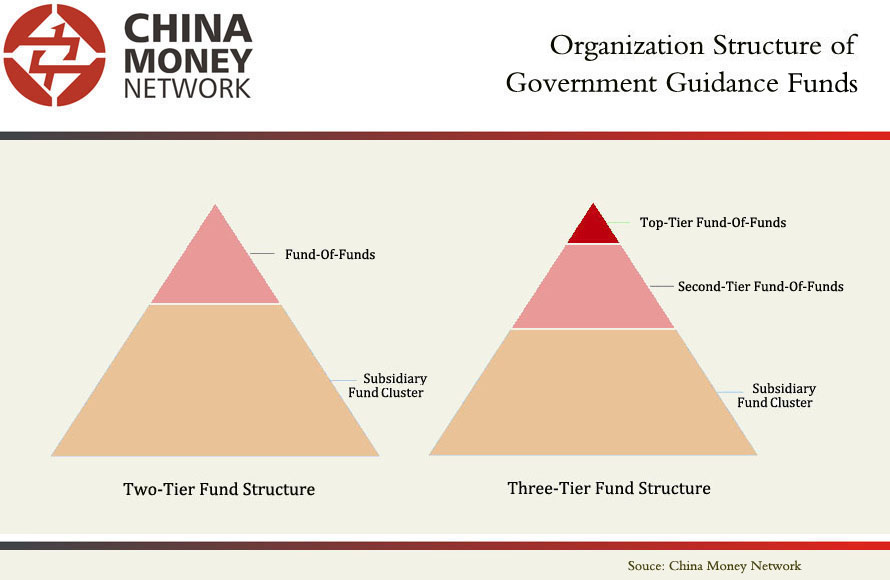 Behind such feverish languages lies the key weakness of government guidance funds: the distance between wishful thinking and reality. The over 1,000 government guidance funds at the end of 2016 aimed to raise RMB5.3 trillion in total, but only RMB1.9 trillion has been actually raised. "As far as I know, some governments first announce the launch of a guidance fund, but later the money actually allocated to the fund is much less than planned, likely due to a lack of capital," Yu Fengkun, an ex-partner at China's first guidance fund Zhongguancun Venture Capital Guidance Fund, told China Money Network.
Very often, the aimed for "total leveraged social capital" is so great that it would be impossible to achieve. For example, Hubei province's Yangtze River Industry Fund, currently the largest government guidance fund and a rare three-tier fund structure, is targeting RMB1 trillion in total leveraged social capital. That is around one third of the whole province's 2016 GDP of RMB3.2 trillion. Xinjiang Uyghur Autonomous Region PPP Government Guidance Fund is aiming to establish a RMB100 billion fund-of-funds, and reach "total leveraged social capital" of "trillions of RMB," while the province's 2016 GDP is less than RMB1 trillion.
"Currently, the size of government guidance funds are being exaggerated. For example, Guangdong government said they have 147 guidance funds with total size of over RMB976 billion, but actually some of them just issued a press release. We checked with the State Administration for Industry and Commerce, and learned that only 59 guidance funds were established with total size of around RMB288 billion," a fund manager at Guangdong Finance Fund Management Co., Ltd. told China Money Network. Guangdong Finance Fund is backed by the provincial government and is responsible for managing several government funds in the province with total asset under management of RMB380.7 billion (US$57 billion). The fund manager spoke on the condition of anonymity.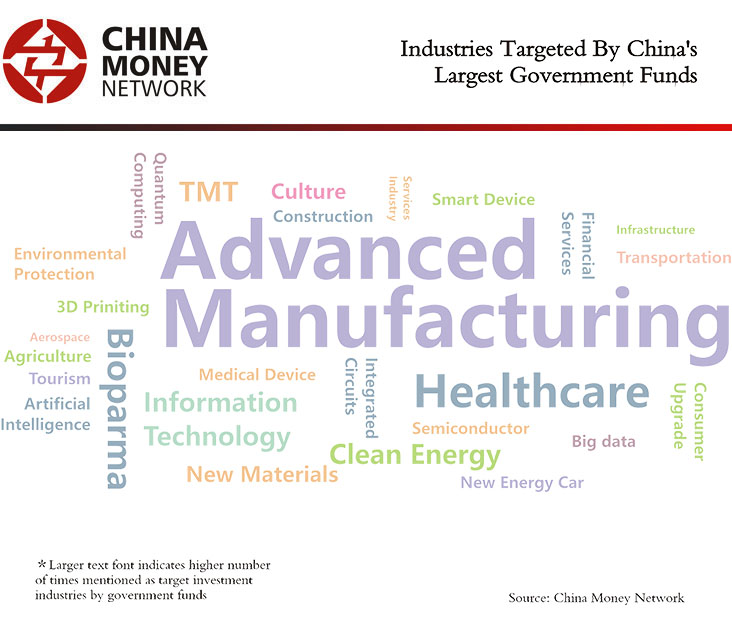 As a result, around 30% of central government-backed investment funds were sitting idle as of the end of 2015, according to the most recent report issued by the National Audit Office of China. The report also said that 39 guidance funds were unable to launch on time because of failure to attract enough private capital, leaving RMB1.37 billion of fiscal budget allocation sitting in custodian accounts. At the subsidiary fund level, a great many funds have not made any investments. At the local government fund level, around 66% of government committed capital, which were supposed to come from government budget, were sitting as termed deposits in commercial banks, prompting some observers to call government guidance funds "the new local government financing vehicles (LGFVs).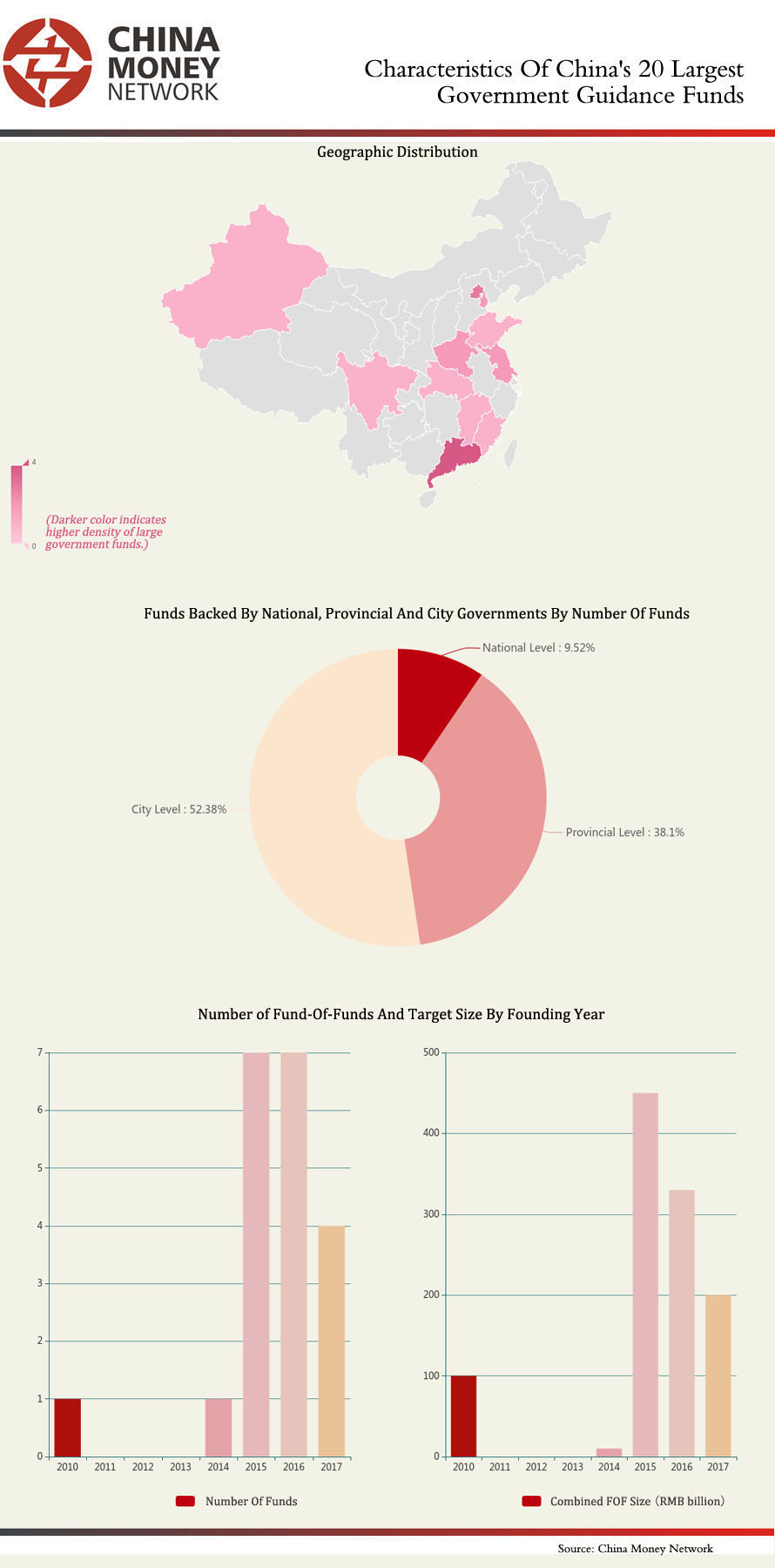 Unforeseen Risks
The dual nature of government guidance funds as pools of both government and private capital is the root of their many contradictions, limitations and risks. Government capital primarily needs to consider safety and can invest with a long-term mentality, while Chinese private capital typically seeks quick and high returns.
"It takes a long time, perhaps one or two years, to get the proposed capital allocation from the government. On top of a list of restrictions of what kind of investments are permitted, the backing government entity sometimes require veto power on investment decisions," said the anonymous fund manager at Guangdong Finance Fund Management.
According to Yu Fengkun, the ex-partner at Zhongguancun Venture Capital Guidance Fund, it also means guidance funds will not be able to attract the best partners because top-performing firms like Sequoia Capital China are unlikely to get involved as they can raise capital on their own that has no geographic and industry restrictions. The result is that many government funds will be managed by inexperienced investment managers.
The idea of government capital "guiding" private capital to sectors that are less popular among venture capitalists, but are critical to China's innovation, is a contradiction in itself. Because a significant amount of capital at the subsidiary fund level is from the private sector, they tend to want to invest where other successful VCs are putting money, defeating the whole purpose of setting up government guidance funds as a policy-driven supplement to venture capital.
And then there is the biggest risk factor facing government guidance funds: exits. No guidance funds have so far achieved an exit, and when the large number of funds established in 2015 and 2016 reach maturity around the same time, it could create creating massive, and unpredictable demands on the IPO and M&A market.
"Government behavior does not follow market principals, and their investment decisions are mainly policy driven. With more guidance funds being established, the market will become more chaotic," Andrew Y. Yan, managing partner at US$4 billion-under-management SAIF Partners, once commented.
The worst-case scenario is that some government guidance funds might need to be liquidated if exits are hard to come by or in cases of corruption and malfeasance. This could lead to the direct loss of government capital and private investor money, potentially causing regional financial problems and social instability. Perhaps this is the reason why government funds are striving to becoming bigger and bigger, because a government bail-out is only likely for those funds considered "too big to fail."

(China Money Network's Katherine Guo, Yao Cheng, Nina Xiang and Jason Booth also contributed to this article)