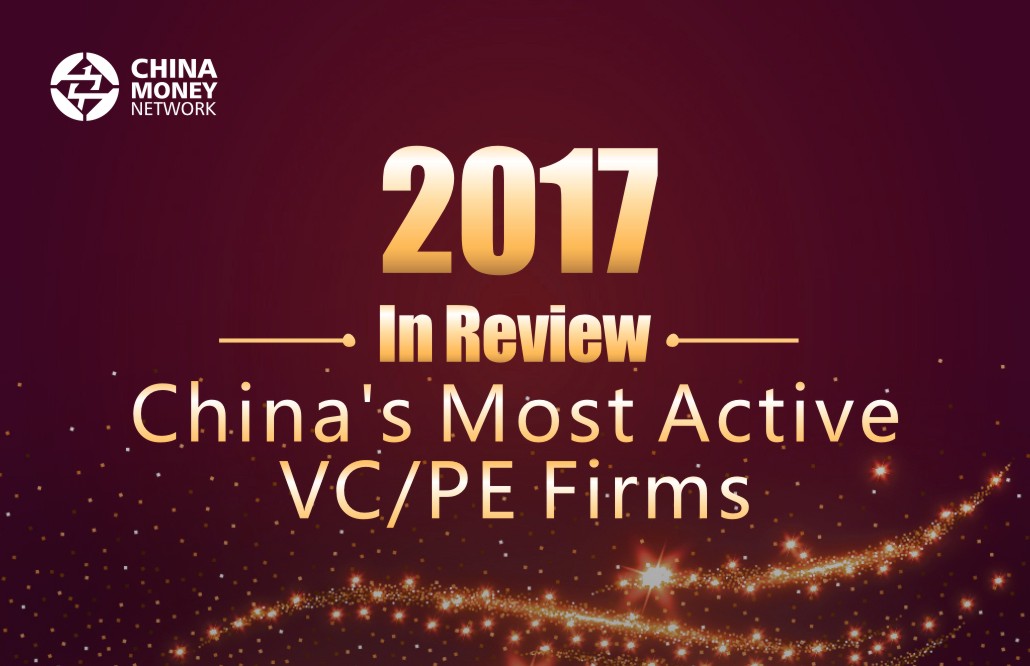 China's venture capital and private equity industry continues to expand at an impressive pace with the top-ten most active firms participating in 460 deals, worth US$22 billion in total. That compares with 399 deals worth US$12 billion in 2016, with total deal value almost doubling from a year ago.
Deals completed by China's leading firms were also larger this year, with an average deal size of US$47 million, versus US$30 million in 2016. The boom is being driven by a growing desire among Chinese investors to seek returns from the private investment sector, against the backdrop of government encouragement for innovation and technology upgrades.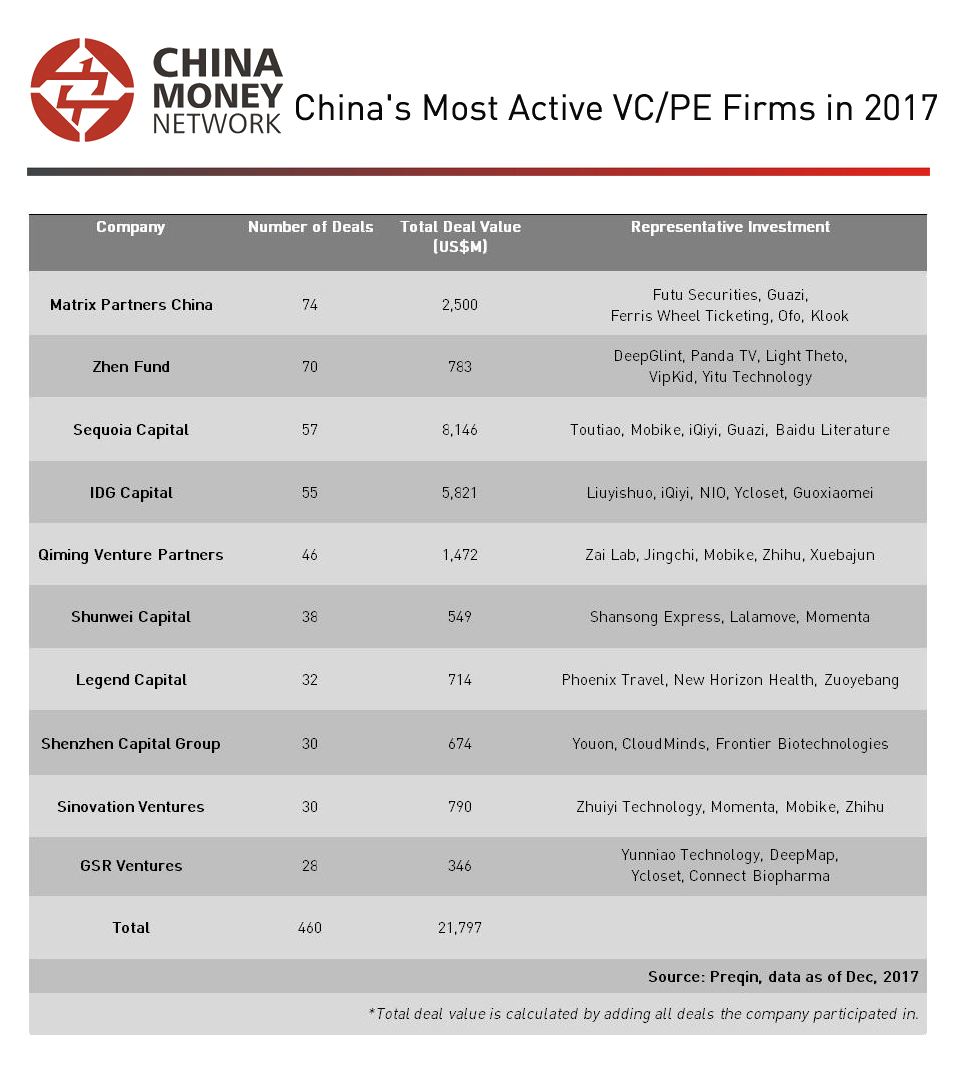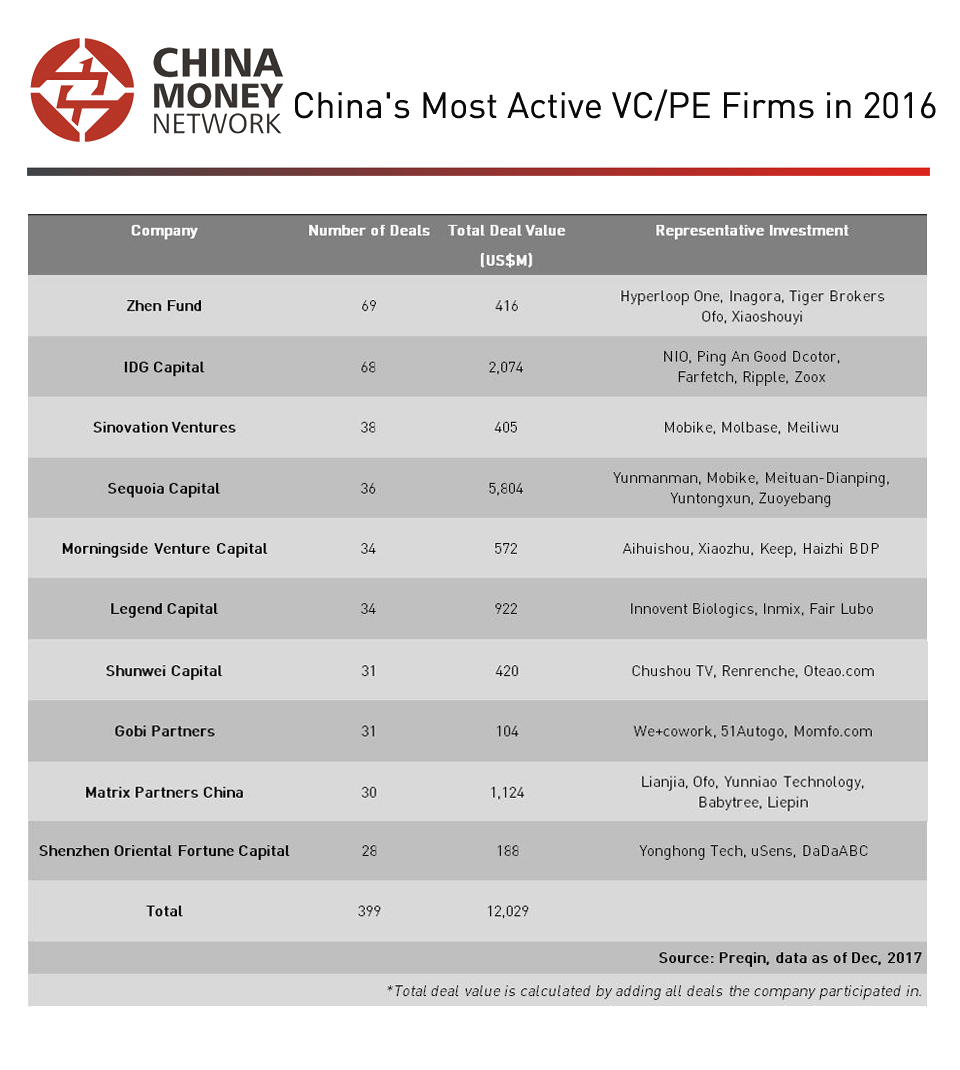 Matrix Partners China ranks as China's most active VC/PE firm this year based on the number of deals, participating in 74 deal worth US$2.5 billion. It marks a strong acceleration in deal making for Matrix, which ranked ninth on the list in 2016 with just 30 deals worth a cumulative US$1.1 billion.
Some of Matrix's biggest investments were participating in a US$450 million series D round in bike sharing firm ofo, a US$400 million series C round in used car trading platform Chehaoduo, also known as Guazi, and a US$146 million series C round in online brokerage firm Futu Securities.
Zhen Fund, an angel investment firm that was the most active fund of 2016, slipped to second place this year with 70 deals.
Sequoia Capital's investments in China came third in terms of activity, with 57 deals, but was by far the biggest player in terms of total deal value, at US$8.1 billion; a figure 40% higher than second ranked IDG Capital in terms of deal value. Sequoia joined a US$600 million series E round in bike sharing firm Mobike, a US$1.53 billion round in video content platform iQiyi and a US$1 billion series D round in Toutiao.
It marks the second year running that Sequoia notched the greatest cumulative value of deals in China.
Three new VC and PE funds made it into the top-ten list this year: Shenzhen Capital Group Co., Ltd., GSR Ventures and Qiming Venture Partners. Falling from the list were Morningside Venture Capital, Gobi Partners and Shenzhen Oriental Fortune Capital.
The buoyant Chinese VC and PE market is partly helped by a healthy IPO market this year. With accelerated IPO approvals by Chinese regulators and the successful listing of Chinese companies in Hong Kong and on overseas markets, 1,029 VC or PE-backed companies completed listing in the first eleven months of this year, compared to 551 in 2016 and 530 in 2015, according to data from Zero2IPO Group.
However, it has been a more challenging year for VC and PE firms in terms of fundraising. A total of 828 funds completed fundraising in the first eleven months of this year, raising an aggregate US$180 billion, down from 1,639 funds raising US$301 billion in the same period last year, according to CVInfo.
This year also witnessed a growing imbalance between RMB-dominated funds and U.S. dollar funds. According to data from Zero2IPO, 3,418 RMB funds were established in the first eleven months on 2017, raising a combined RMB1.5 trillion (US$227 billion).
By contrast, only 79 U.S. dollar funds completed fundraising this year, raising RMB100 billion (US$15 billion), or just 6% the amounts raised by RMB funds. It marks a reversal from past years when U.S. dollar funds dominated China's VC space in terms of both fundraising and investments.