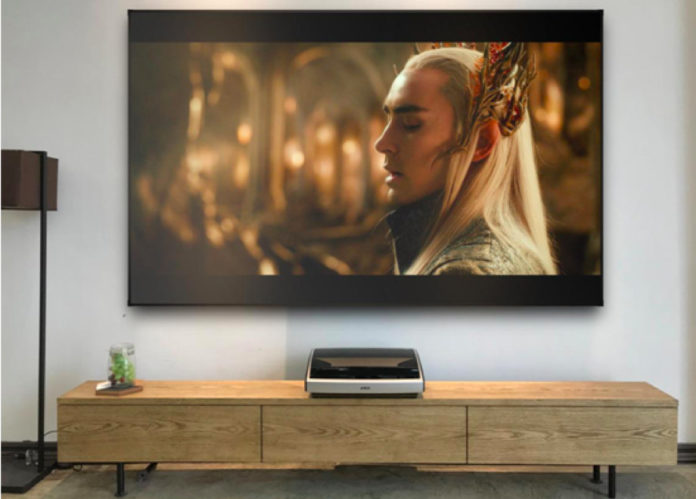 Chinese smart projector maker JMGO has raised RMB600 million (US$86.53 million) in series D round of financing led by Alibaba.
Investors including Junsan Capital, Sunz Fund,Stone Capital, GF Xinde Investment, Beijing D.Z Capital Co. Ltd and 36Ker Fund, among others, participated in the latest round.
Alibaba Group Holding Limited will cooperate with JMGO on AI technology upon completion of the transaction.
Established in 2011, JMGO is a smart projector and laser TV manufacturer with products exported globally.
Shenzhen-based JMGO is a subsidiary of Shenzhen Holatek Technology Co., Ltd., whose products include Jianguo G1, a smart home speaker and HOLATEK-A2, a 3D-LED smart projector with Android system.
The funding could be Alibaba's another move into the IoT Industry with the implement of AI and Cloud computing, three strategic points to its IoT solution.
"In China, smart home and smart cities have changed dramatically in just four years and controlling smart home products through the app is possible from the user's perspective," said Chen Lixue, general manager of the Artificial Intelligence Laboratory of Alibaba DAMO Academy, a global research program created by Alibaba Group.
The company has completed five rounds of financing before the latest.
It secured RMB600 million (US$86.53 million) in series C round of financing led by Golden Brick Capital and CICC Qianhai Capital in March 2016, and RMB60 million (US$8.65 million) in series A round from IDG Capital and StarVC in December 2014.
In addition, it also raised RMB200 million (US$28.84 million) in series B round from Green Pine Capital Partners, Skychee Ventures, among others, in June 2015.
The proceeds will be used in the development and expansion of laser TV content and channel.