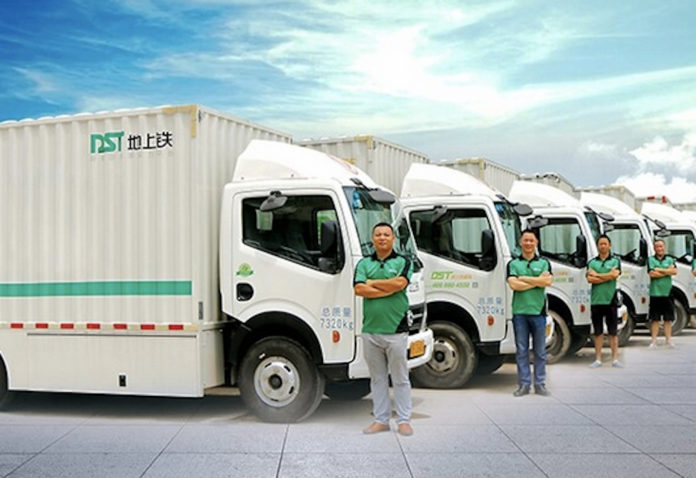 Dishangtie Car Rental (Shenzhen) Co., Ltd., an electric vehicle one-stop solutions provider for Chinese logistics companies, has secured RMB300 million (US$43.18 million) in a series B1 round of financing, led by Bojiang Capital.
Existing backers, such as Qiming Venture Partners and Matrix Partners China, also participated in the round. Other investors, including Japanese ITOCHU Corporation joined as well, according to an announcement released by ITOCHU Corporation.
Beijing Zhongguancun Bank Co., Ltd. also provided credit support for the funding round.
Established in 2015 and based in Shenzhen, Dishangtie focuses on providing one-stop energy vehicle services from leasing to operational services to Chinese logistics and supply chain management companies.
The rise of e-commerce in China has created exponential growth for the Chinese courier services industry. There were 40 billion packages delivered in China in 2017. Such massive volume has created increasing operating costs and pollution, and logistics companies are looking for ways to reduce costs and pollution.
From JD Logistics to China Post and Cainiao Network, logistics companies are taking action to increase the usage of energy vehicles. China Post has set a goal to have 100% of its new delivery vehicles in 2020 to be new energy vehicles. Cainiao Network plans to make millions of smart logistics vehicles by partnering with car makers. S.F. Holding is also planning to depoly nearly 10,000 EVs before year-end 2018 to replace traditional fuel trucks.
New energy vehicles as the term is used in China include EV and hybrid vehicles. THese vehicles can save costs by 20% to 25% compared to traditional fuel vehicles, acording to founder of Dishangtie, Zhang Haiying.
This new demand is the basis for Dishangtie, which provides one-stop services for logistics companies from EV leasing, maintenance, operational support, charging infrastructure and fleet management.
Dishangtie currently operates a fleet of 15,000 EVs in China in over 30 Chinese cities. It has built on its own or partnered with nearly 2,000 EV charging stations as well.
Dishangtie previously completed two rounds of financing. In March 2018, the company completed a RMB300 million (US$43.18 million) series A round of financing, led by Matrix Partners China and Qiming Venture Partners, with the participation of State Power Investment Corporation Limited and Eastern Bell Venture Capital.
It received RMB50 million in Pre-A round of financing, led by Qiming Venture Partners, in May,2017.
The proceeds of this round will be used to grow the number of new energy vehicles the company operates, in order to better serve logistics companies.