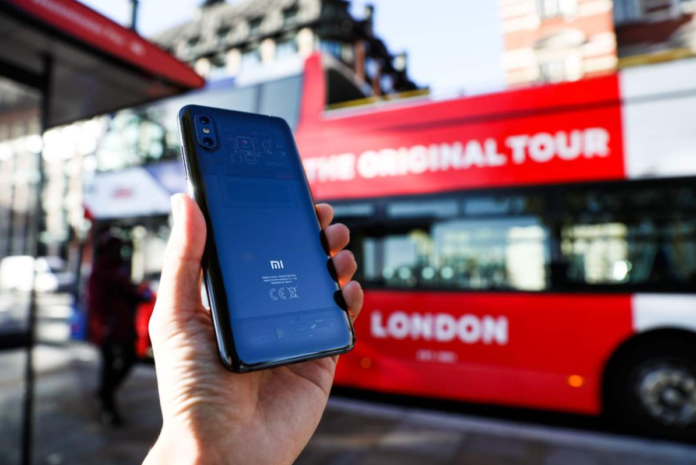 Chinese smartphone giant Xiaomi Corporation has officially entered the British market, with the global launch of its flagship Mi 8 Pro, marking its foray into the fourth European country within a year after Spain, France and Italy.
The company's products will be available on online and offline stores. Its first authorized Mi outlet will commence business in Westfield on November 18, said Wang Xiang, chairman and chief executive officer of Xiaomi, at a launch event in London on November 8.
Xiaomi has launched a group of products led by the artificial intelligence (AI) powered dual camera smartphone Mi 8 Pro. The newly-introduced phone priced from £499.99 (US$898.35). It has a 6.21 inch high-definition AMOLED display, a pressure-sensitive in-display fingerprint sensor and a transparent glass back cover.
Other products include the entry-level Redmi 6A device, priced from £99 (US$130), fitness band Xiaomi Band 3 and Mi Electric Scooter.
The latest move to foray into Britain signals the company's shifting focus towards overseas markets. The company said that its overseas revenue for the second quarter of 2018 has more than doubled year-on-year.
The current focus of Xiaomi was the European market, Chinese media outlet Sina Technology reported, citing Xiaomi's founder and chief executive Lei Jun.
The company made its European debut in Spain a year ago in November 2017, where it already ranks third, according to research firm Canalys, followed by France and Italy at roughly the same time in late May 2018.
Xiaomi stood fourth in the western Europe's smartphone market in the second quarter of 2018, with a drastic growth of over 27 times in its quarterly shipment compared with the same period in 2017, according to Sina Technology.
The Chinese smartphone manufacturer has drawn its global layout, starting from India where it has beaten Samsung to become the top smartphone seller earlier this year. It later entered the Southeast Asia and Russia markets.
Founded in 2010 and listed in Hong Kong in July 2018, Xiaomi has a market value of US$44 million.
In the second quarter of 2018, Xiaomi's revenue hit RMB45.24 billion (US$6.60 billion), representing a rise of 68.3% year-on-year. The company had reported an operating loss of RMB7.5 billion in the same period. Net profit of the company reached RMB14.63 billion in the second quarter of 2018, from a loss of RMB7.03 billion in the first quarter of the same year.
The company's share price has dropped about 36% from a peak of HK$21.55 on July 18 to HK$13.72 on November 8.