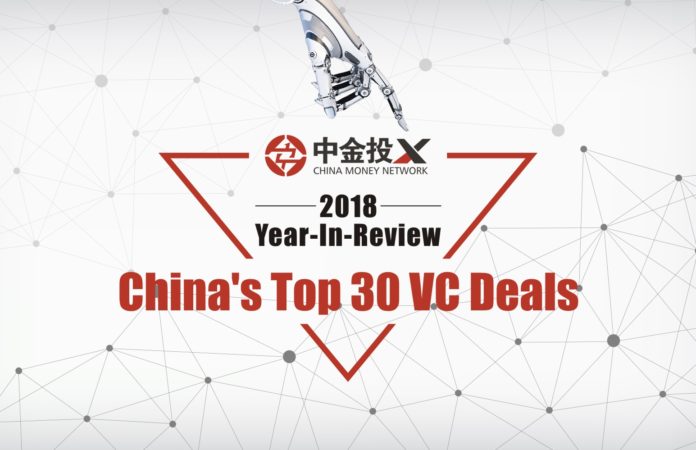 The year of 2018 is undoubtedly a year of harvest, with the venture capital deal value scored by Chinese companies reaching a high it hasn't seen since 2013. The year also produced a large number of mega deals — with the top 30 investments bagging nearly US$45 billion, underscoring promising future development in the Chinese venture capital market.
To get a close-up view of how China's venture capital (VC) market developed in the past year, China Money Network has ranked the 30 largest VC deals secured by Chinese companies in 2018.
It is an eye-catching set of deals that accumulated an aggregate of US$44.82 billion across the top 30 transactions, representing a 83.23% growth compared with the US$24.46 billion logged in 2017. Companies in the transportation and space industry struck a pose as recipients of the largest investments in 2018. They are followed by homegrown companies in the artificial intelligence (AI) & robotics sector, as well as players in the fintech field, who also bagged massive capital this year.
Some players are thriving in this VC market, and China witnessed 11 deals worth US$1 billion or above in 2018 — double the number compared with the five deals of equivalent value recorded in 2017.
Topping the list is Ant Financial, operator of China's biggest online payment platform Alipay, which raised about US$14 billion in what market watchers called "the biggest-ever single fundraising globally by a private company." The unprecedented capital, almost triple the US$5.5 billion largest deal bagged by ride sharing firm Didi Chuxing in 2017, was secured in Ant Financial's series C round of financing in early June 2018.
Chinese group buying social commerce company Pinduoduo comes second with a US$3 billion series C round of financing led by Tencent in April 2018. Next on the list is a US$2.5 billion series A round investment in JD Logistics, the logistics subsidiary of Chinese online retailer JD.com, while home improvement chain Easyhome ranks fourth by collecting a US$2.05 billion investment in February.
The transportation and space industry stand out for their ability to attract large amounts of VC capital this past year, accounting for eight out of the largest 30 deals. Besides JD Logistics, other companies that made it on the list include truck hailing service platform Manbang Group, bike sharing companies ofo and Hellobike, auto retail services platform Chehaoduo, as well as electric vehicle developers Youxia Motors and Xiaopeng Motors.
The AI & robotics industry also earned great attention from venture capitalists in 2018. The largest deals raised in the sector were mainly scored by SenseTime, who netted a total of three rounds of financing in the past year. The company completed a US$1 billion series D round led by Softbank China in September, months after a US$620 million series C+ round in May and another US$600 million series C round in April. Facial recognition firm Face++ and humanoid robotics developer Ubtech, both with products powered with AI technology, raised US$600 million and US$820 million respectively.
Companies in the fintech sector are of similar popularity in 2018, completing four deals out of the 30 largest transactions. Led by the US$150 billion-worth Ant Financial, which is touted as "the world's most valuable unicorn company," three companies who also received massive capital include JD Finance with a US$1.9 billion series B round, online internet finance marketplace Lufax with US$1.33 billion and Du Xiaoman, the financial spin-off from Chinese search giant Baidu, with a US$1.9 billion series A round.
Moreover, it is noteworthy that bike sharing company Hellobike is one of the two companies in the list that received more than one gigantic investment. Amid the cooling down of the so-called sharing economy in China in 2018, Hellobike completed a US$700 million series E round of financing from Ant Financial and Fosun Group in April, followed by a US$583 million investment in December.
The six-year high seen in the 2018 Chinese venture capital market was reached by Chinese companies securing US$85.2 billion in investments. That's up 62.91% compared with the year before, according to statistics conducted by Chinese information and data solutions provider CVSource.
However, the statistics also indicate that a severe polarization has appeared in the Chinese VC market in 2018, in which only a few top venture capitalists like Hillhouse Capital and Sequoia Capital China could still stay active in pouring good money into the Chinese fast-evolving economy. A vast amount of small and medium institutional investors, in contrast, sunk into an investment downturn amid a capital winter in the country.
"The lack of high-quality investment projects, as well as the difficulty in raising capital for funds and exiting from investment projects, will speed up the industrial reshuffle in the Chinese market," CVSource predicted.
As part of China Money Network's "2018 In Review" series, this "China's Top 30 Venture Capital Deals" list excludes all deals that are yet to be confirmed or officially announced by investment recipients or investors. Likewise, some mega deals invested by Chinese companies in overseas companies are also excluded, as they deal with markets outside of China. Lastly, funding rounds in which companies raised the same amount of money are ranked chronologically.