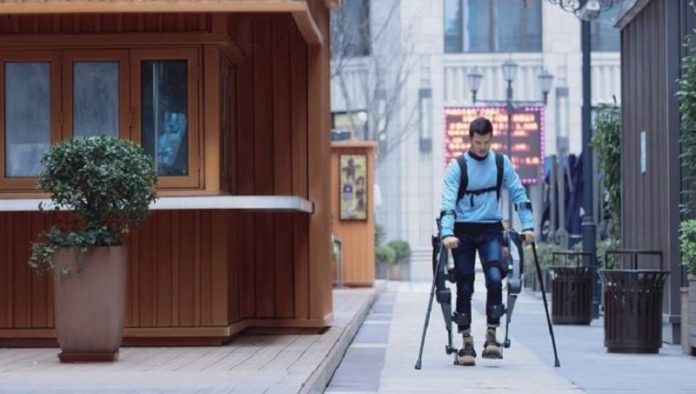 Fourier Intelligence, a Chinese technology firm that develops rehabilitation robotics and exoskeleton, announced on Thursday that it has raised tens of millions of yuan in a series B round of financing led by Shenzhen Guozhong Venture Capital Management, a small and medium enterprises development fund.
Returning investors IDG Capital and Volcanics Venture also participated in this round, according to a company statement.
Recent research cited in the statement indicates that there are four therapists for every 100,000 patients in China. This translates into a shortage of up to 300,000 therapists and the need for therapists is continuously growing due to demographic change, increased life expectancy and the associated health requirements.
Fourier Intelligence, drawing its name from the French mathematician Joseph Fourier, was founded in 2015 to focus on the developing, manufacturing and marketing of rehabilitation robotics and exoskeleton. Based in Shanghai and with offices in Singapore and Australia, the company is committed to making life easier for overworked therapists by cutting their workload.
The company unveiled its first commercially available lower-body exoskeleton robot "Fourier X1″ in 2017. The product can be used in hospital rehabilitation programs to help paralyzed patients get out of their wheelchairs and learn to walk again. Its next-generation rehab exoskeleton product "Fourier X2″ is designed to assist lower limb rehab for stroke patients and other victims of mobility impairment.
"Rehabilitation is an important and vastly underrated industry, and we trust that Fourier Intelligence is well-positioned to change this industry with its innovative products and strong global networks," said Pang Changwei, investment director of Guozhong Venture Capital.
Proceeds of this round will be used to expand the company's product line, develop its intelligent rehabilitation robotic platform and consolidate its leading market position.
The company raised RMB30 million (USD4.37 million) in a series A round from Shenzhen Qianhai Fund of Funds, IDG Capital and Volcanics Venture in February 2018. It also raised RMB15 million (US$2.18 million) in a series pre-A round from Volcanics Venture in September 2016, after it secured RMB8 million (US$1.16 million) in an angel round from IDG Capital and Shanghai Zhangjiang Venture Capita in July 2015.