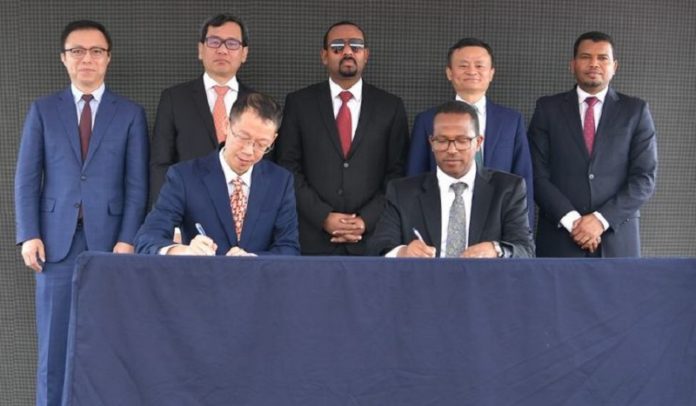 Chinese e-commerce giant Alibaba Group signed a memorandum of understanding (MoU) with the Ethiopian government on Monday to join the Alibaba-led initiative Electronic World Trade Platform (eWTP).
The signing ceremony was attended by Abiy Ahmed, the Prime Minister of Ethiopia, Jack Ma, Founder of Jack Ma Foundation and Partner of Alibaba Group, and Eric Jing, Alibaba Group Director and Financial Services Group Chairman and CEO.
The documents of the MoU include eWTP framework, digital capacity building, and building comprehensive digital hub, which is the second in Africa after Rwanda and will serve as a gateway for Ethiopian products to China and new markets.
The eWTP hub in Ethiopia is primarily aimed at enabling Ethiopia to provide smart logistics and services, conduct cross-border trades targeting small and medium-sized enterprises (SMEs) by helping them penetrate markets in China and other parts of the world.
Jack Ma also announced on the ceremony that the scale of Jack Ma Foundation's African Startup Fund will be increased from US$10 million to US$100 million, in order to cultivate entrepreneurs, drive young people to grow, and create blood for Africa, thereby helping Africa's sustainable economic development.
"We will help more entrepreneurs in Africa. We will help more internet development and the digital economy in Africa," said Jack Ma.
(This article is translated from Sina.com. You can see the original article in Chinese here.)