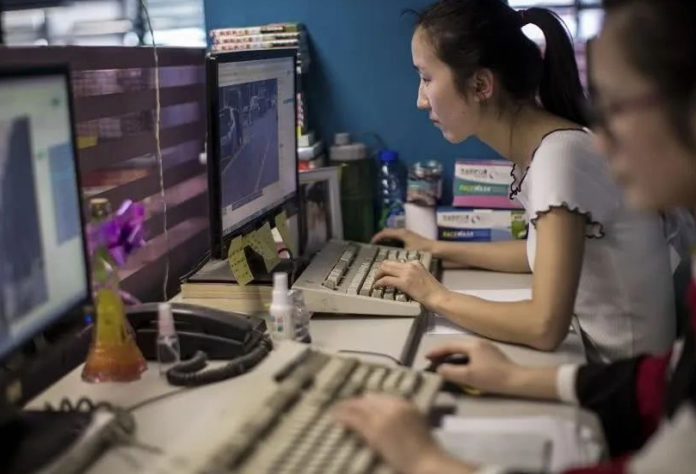 In the dark month of February as the coronavirus outbreak paused economic activities, China's VC / PE circle has never been busier.
February 10 was the first day of formal resumption of work in Shanghai. On this day, Lightspeed China's founding partner Yun Qun shared a post on his social media channel: "On the first day of resumption of work after the holidays, with a startup CEO and after internal discussions, we signed an investment term sheet smoothly."
Xu Qun told the investment community that they arranged a car to take the CEO from home to Lightspeed China's Shanghai office to avoid excessive contact with the outside world. After signing the TS, Wu Qun asked his colleagues to take a photo of them. "This photo will be very memorable in the future." In the photo, everyone was wearing a mask. One week later, Lightspeed China successfully signed a second TS in its office.
Like Lightspeed China, many investment institutions resumed work early. "In addition to providing post-investment services, our investment team saw at least 100 new projects in two weeks," an early stage investment institutional partner in Beijing said after hurriedly ending a video conference. "The month of February has been much busier than in previous years. Each day, I wake up to a lot of things waiting for me to handle."
Surprisingly, as people originally expected the venture capital market to fall into oblivion amid the Covid-19 epidemic, it is showing signs of unusual optimism and enthusiasm.
Mixed Conditions
During the outbreak, for most organizations, working online was the only option. "You can't go offline, you can only work online, but it's actually busier," This is the general feeling of many investors. "We have several companies before the Spring Festival that we have completed DD (due diligence). We promise that after the holidays, we will complete the final process because we are not willing to delay entrepreneurs at this time."
Wu Shichun, the founding partner of Plum Ventures, admits that during this time, the focus of his work is on post-investment management. At present, the firm's funds are sufficient. After the epidemic is over, it should quickly return to the normal investment track and pace. "Our original plan was that this year's investment projects will be similar to 2019. Last year we invested more than 70 projects. This year we estimate that we will also invest more than 60 projects, but now we can't make good investments in the first quarter. We will see how things are going after the second quarter."
Rushing to complete projects is also in full swing. Sequoia Capital China Fund team worked full-time during the epidemic, and arranged for partners to sign various transaction documents. In February, it just completed the investment of 25 companies. It is worth mentioning that compared to the same period last year, the number of Sequoias' investments has increased.
The invested company cannot delay their fundraising process, nor can work with the Limited Partners (LPs) be delayed. "We resumed work and surveyed the investee company, sorted out the report and submitted it to the LP. The LPs need to understand how much the outbreak may affect exits and whether the long-term performance expectations of the fund will be adjusted. Some fund-of-funds are doing research. You also need to fill in some forms," Huang Xiaoli, founding partner of Ally Capital, said. "There are still some projects on hand, and the last part of the payment is planned for these couple of weeks."
This month, VC / PEs have gone out of their way in terms of post-investment management. Helping investee companies find medical supplies such as masks and forehead thermometer guns. Almost every investment firm is doing this for their portfolio companies.
Inno Angel Fund has organized a series of online courses for portfolio companies, including training and counseling in legal affairs, human resources management, finance, while helping some more demanding companies to connect with customers and understand what support they currently need.
Lightspeed China telephoned the CEOs of portfolio companies in early February and quickly collected several issues that they needed most urgently. They were divided into financing, human resources and financial modules. At the same time, gathering offline resources has also been launched. In addition, the firm also helped non-invested companies to connect with customer resources, hoping to help the companies overcome difficulties.
In order to assist portfolio companies to operate stably during the epidemic, four well-known institutions, including BAI, Joy Capital, NIO Capital and Eastern Bell Capital, launched online Demo Day. In the next two weeks, these four organizations will jointly host two online Demo Days in the form of video conferences.
Startup Valuations Drop As Virus Spread
No Spring Festival has ever made Li Cheng (a pseudonym) feel so restless. He was an investment director at a biotechnology company in Optics Valley, Wuhan. But for two months, there has been no progress in raising RMB15 million yuan for the company.
The company started a series A financing on January 1st. Because it's the end of the year, many institutions did not look at new projects. A Shanghai investment institution was very interested in the company. On January 13th, he and the company founder flew to Shanghai for a roadshow. It was good, but around February 3rd when he plan to go to Shanghai to meet the institutional partners again, the coronavirus epidemic caused an infinite delay in this important meeting.
"We originally planned to complete financing at the end of March, build a plant in about 8 months, and put into operation a new production line by the end of 2020. Now that the roadshow is suspended and the company has not resumed work, the impact is quite severe." What worried Li Cheng even more was that even he always maintained communications with the Shanghai organization, no substantial progress has been made and everything is just pending.
"Actually, we can negotiate valuation this time." Li Cheng said that the company had not planned to lower the valuation because the company is in a market with few competitors, high technical thresholds. Its products and service is a key part of the production of vaccines for coronavirus and monoclonal antibodies. Even during the epidemic, many customers have asked about shipping. "However, now that we have insufficient production capacity and little sales, I worry that the first quarter results will be an obstacle to financing."
Li Cheng's concerns reflect the dilemma that many companies are facing: the financing market is disrupted and cash flow is also insufficient. Should companies lower valuations and get life-saving money as soon as possible?
Earlier, Wang Ran of CEC Capital reminded entrepreneurs that those affected by the epidemic that have completed financing negotiations before the holiday but have not yet completed the process should hurry up and hurry up more. At the same time, companies should make good preparations for renegotiation of some terms, because this year's growth expectations have changed dramatically. Valuations that have not taken a hit by Uber and Wework's fiasco are likely to be affected by coronaviruses this time.
"The founders generally report a valuation, followed by a sentence: it's negotiable. After the acceptable terms, discounts or reductions in the valuation are all possible." Wu Shichun, the founding partner of Plum Ventures, found that entrepreneurs are more pragmatic in the epidemic, and are more rational in terms of financing and valuation expectations.
CASH Capital's management partner Wang Ge also noticed that some companies may have reached a stalemate with investment institutions due to some terms, but there are signs of it being loosened. However, he bluntly stated that "the valuation bubble of some projects in the previous two years was too exaggerated, which not only made the next round of financing very difficult, but also for some institutions that have already invested in such projects to be reluctant to accept a valuation reduction because it will directly affect their book performance."
In Wang Ge's opinion, the valuation of China's primary market is unrealistically high. In many areas, the valuation level of Chinese startups is much higher than similar foreign companies. "This is unhealthy. For those institutions that have jumped on the wagon of investment fads earlier, the impact of this epidemic will be very obvious. But for institutions that have always been more rational, right now presents a good opportunity."
Investment Managers Worried About Job Cuts
Fundraising for venture funds usually starts in the new year, but this year the pace of the VC / PE circle has been disrupted.
"This year's fundraising will be affected. I also know many of my good friends, they agreed on new funds before the Spring Festival, but now there is no way to do final negotiations and formally closing," Founder and Director of Zero2IPO Group Ni Zhengdong said at a public event lately.
Another investment manager told the investment community that they originally planned to raise a RMB fund and a US$ fund in 2020, with a target size of US$150 million fund. However, at present, it will definitely be delayed. "At least this year's fundraising will be delayed for 3 months."
Earlier this year, the investment community reported that the rhythm of most investment institutions had slowed down significantly in the beginning of the year and was affected by the epidemic. For many small and medium funds, the first half of this year activities basically stopped.
Wang Kai, founder and CEO of CEC Capital, gave a pessimistic forecast: if the epidemic prevention and control does not go as smoothly as hoped, it will not only affect the first half of the year but also the whole year. It is also possible for some investment institutions to not close any funds at all.
Affected by the outbreak, investment directors and investment managers feared they would be laid off. Many investment managers have acknowledged their concerns: most of the portfolio companies have been affected by the epidemic, and the partners have focused on current investment. It is necessary to cut some investment staff if investment activities slow.
This year is a year of continued reshuffle of the industry, and the survival of small and medium-sized funds is concerning.
According to Jixun Foo, GGV Capital Management Partner, there will be a watershed in the fund industry in 2020. Good institutions will be better, and bad ones may be quickly eliminated. "If the capital winter is the basic tone of the venture capital circle in 2019, then it is colder even now. This epidemic will exacerbate the reshuffle of the entire VC industry."
Another manager believes that the epidemic will make it more difficult for investment institutions to raise money. Individuals or businesses that could have contributed to the investment have also been affected, or they have a psychological tendency to wait and see. In addition, the prices of many assets such as shops, land and real estate will decrease and become attractive, and these places will attract money.
(This article is translated from the original here. Translation is assisted by LingoCloud. Necessary editing is performed for length and clarity.)