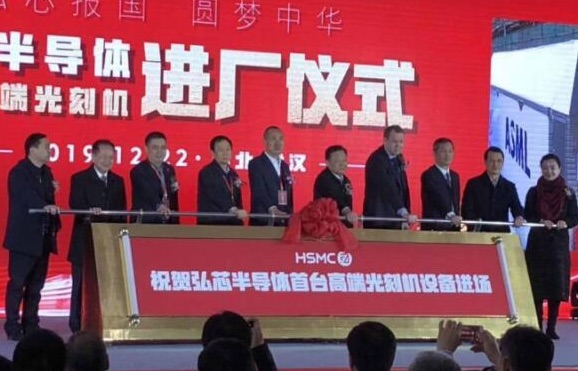 Wuhan Hongxin Semiconductor Manufacturing Co., Ltd., a Chinese semiconductor project with investment of more than RMB100 billion yuan and running for three years, has reportedly failed due to disputes with subcontractors.
Attention to the project first started with an official document at the end of July from the Donghu District in Wuhan, where the company is based.
The document stated that Wuhan Hongxin Semiconductor Project has a large funding gap and faces the risk of a capital crunch. The project has basically stalled, and it is difficult to declare the remaining RMB100 billion funds earmarked to the project this year. The document is now taken off from the Internet.
But reporters who have visited the factories of Wuhan Hongxin say that construction has stopped and the company's high profile management has left. Jiang Shangyi, who was formerly an executive at Taiwan Semiconductor Manufacturing Company (TSMC), is no longer associated with the company after a short stint of less than a year.
Wuhan Hongxin project has two phases, with a total investment of RMB52 billion yuan in the first phase. The project started in early 2018 and the main structure of the plant was capped in July 2019.
The second phase has an investment of RMB76 billion yuan. The project started in September 2018 and is currently under construction. The two phases of Hongxin totaled RMB128 billion yuan. As of the end of 2019, a total of RMB15.3 billion yuan has been invested, and the investment is expected to be RMB8.7 billion yuan in 2020.
Wuhan Hongxin was established in November 2017 with a goal to build a domestic semiconductor logic process and wafer-level packaging advanced "integrated system" production line, with a strong intellectual property IP design team, and to promote 5G and AI with innovative business models.
After China's State Council promulgated the "National Integrated Circuit Industry Development Promotion Program" in 2014, the country once again saw an upsurge of the investment of the integrated circuit industry, and many governments have given preferential policies for semiconductor companies.
Wuhan Hongxin Semiconductor Manufacturing Industrial Park is a key investment project in Wuhan and Hubei province. In 2018, Hongxin Semiconductor Manufacturing Industrial Park ranked first in Wuhan's 2020 city-level major projects under construction, and the total investment amount is the biggest. At the same time, Wuhan Hongxin project in 2018 and 2019 is also a key construction project at the provincial level in Hubei.
In 2019, Jiang Shangyi, who joined TSMC in 1997 and served there for many years, joined Wuhan Hongxin as the CEO. At the end of the same year, Wuhan Hongxin reportedly imported China's first ASML lithography machine that is capable of the 7nm process into the factory, which once again attracted attention.
Experts now say that the ASML lithography machine Wuhan Hongxin imported is of the model of 1980 lithography machine, and is not capable of 7 nm process.
According to data from Wuhan Hongxin's official website, it aims to actively catch up with advanced semiconductor process technology from 14nm, 7nm, 5nm to 3nm, and build a wafer-level advanced packaging production line.
The direct cause for Wuhan Hongxin's suspension of operations is a dispute with construction subcontractors. Wuhan Hongxin paid the general contractor in full amount on time, but the general contractor owed the subcontractor RMB41 million yuan in payment.
In November 2019, the Intermediate People's Court of Wuhan City, Hubei Province seized the right to use more than 300 acres of land by Wuhan Hongxin Semiconductor Manufacturing Co., Ltd. with a civil ruling for a three-year period and immediately executed. The total planned land area of the project is 636 mu, more than half of the land seized this time.
Public information shows that the case was held on the morning of June 8, 2020, and it is still under trial.
Although Wuhan Hongxin stated that it did not owe the project payment to the general contractor, the risk of its capital chain has gradually emerged. According to the data from Tianyancha, on January 20, 2020, Wuhan Hongxin mortgaged the TWINSCAN NXT:1980DiASML lithography machine to the Dongxihu branch of Wuhan Rural Commercial Bank Co., Ltd. The status of the machine was "new and not yet activated". The assessed value is RMB581 million yuan.
In recent years as US-China disputes deepened and some Chinese companies are banned from buying chips made with American technology, there has seen a boom in the semiconductor industry in China. Many cities are scrambling for this new hot trend.
But in the midst of a boom, some cities such as Wuhan, Nanjing, Hefei, Chengdu, and Chongqing may not have technological R&D capabilities and talent pools that can match Beijing, Shanghai, Guangzhou and Shenzhen. These cities used land and preferential policy to attract investment in chip projects. But many may not have the resources, expertise and talent to produce desired outcome.