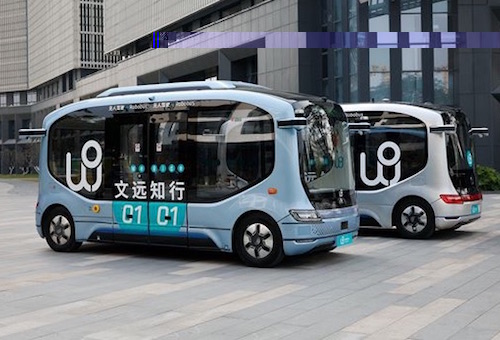 Just one month into 2021, there have been waves of big news in the field of autonomous driving.
On January 14, Chinese autonomous driving company WeRide raised US$310 million for its series B round of financing. Investors include Zhengzhou Yutong Group and CMC Capital.
What's noteworthy is that Yutong Group is a Chinese manufacturer of commercial vehicles, especially electric buses. WeRide and Yutong jointly developed a self-driving minibus product that started pilot operations in Guangzhou and Nanjing a week later.
The minibuses use a front-mounted mass-produced model without a steering wheel, throttle or brake, and is equipped with a full-stack software and hardware solution independently developed by WeRide.
"Autonomous driving is not only a means of travel, but also an important part of the entire smart transportation and smart city. I think the boundaries between driverless minibuses and driverless taxis will become more and more blurred in the future," WeRide's CEO Tony Han said during a media briefing.
In his view, the self-driving minibus is closer to the concept of urban transportation infrastructure. In the future, this kind of self-driving micro-circulation minibus operating within a few kilometers will be a basic public service like water, electricity and gas.
How to gradually commercialize self-driving services is one of the biggest challenges autonomous driving companies face. Compared to two years ago when startups were able to raise hundreds of millions of US dollars by producing model vehicles and conducting some road tests, investors today are more practical about the value of self-driving companies as a business.
For self-driving companies like WeRide, a more reasonable strategy is to seek commercialization opportunities in every potential revenue instead of betting solely on realizing robotaxi services.
Robotaxi services are highly uncertain in China, as regulators have been very cautious in moving forward. The technology is expected to take a much longer time to mature before a driver and safety driver can be removed for safe operation.
At the same time, there have been tie-ups between different stakeholders from car manufacturers, ride hailing platforms and technology platforms to self-driving tech startups. WeRide's cooperation with Yutong Group is one example of this trend.
The company said that exploring the commercialization of autonomous driving through strategic collaboration with car companies and tier 1 suppliers is one of its development strategies.
"We are not blindly opening an office in a city. We deploy our services in each city with a strategic purpose for each city, and rely on local resources to accelerate the implementation of autonomous driving," said CEO Han.
WeRide said that it is considering other potential commercialization angles without specifying any specific plans. Autonomous driving companies have launched services in unmanned ports, unmanned industrial parks, self driving trucks, as well as street cleaning robotic vehicles and self-driving navigation robots.
CEO Tony Han also said that the company is going to list publicly without elaborating.
WeRide was founded in 2017, with its global headquarters in Guangzhou, with R&D and operation branches in Beijing, Shanghai, Nanjing, Wuhan, Zhengzhou, Anqing, and Silicon Valley in the United States. The team has more than 300 people, of which 70% are R&D engineers.
In November 2019, it launched Robotaxi operation service in Guangzhou, covering hundreds of square kilometers of open roads in the core cities of Huangpu District and Guangzhou Development Zone.
In June 2020, WeRide Robotaxi service was launched on Autonavi's taxi-hailing platform to connect to the more mature travel market.
As of November 2020, WeRide Robotaxi has safely completed 147,128 trips in its first year of operation, serving more than 60,000 users, and without any active liability accidents.
As of January 2021, the fully open Robotaxi launched by WeRide in Huangpu District, Guangzhou has been operating for more than 400 days. It can collect more real driving data and educate the market, allowing companies to more intuitively understand user pain points, and force engineering and operations teams to continuously strengthen security mechanisms.