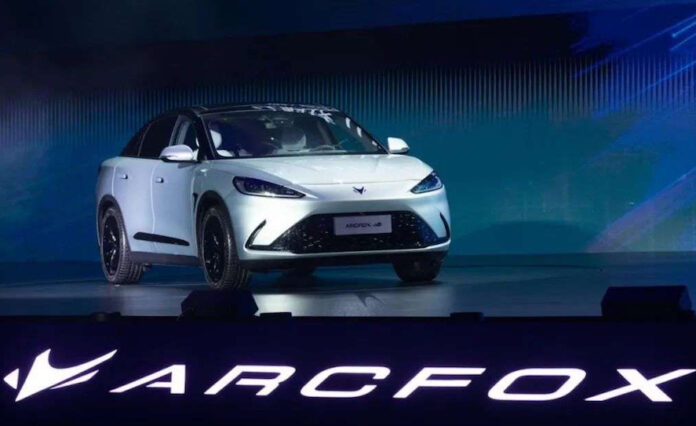 BAIC's new energy car brand ArcFox and Huawei have jointly released their first HUAWEI Inside smart luxury pure electric car, BAIC Alpha S in Shanghai, during the weekend.
The Alpha S Huawei HI version of the smart cockpit uses the Harmony OS operating system to realize the operation between the smart phone and the smart cockpit.
Huawei has repeatedly said that it won't make its own car. The BAIC Alpha S utilizes the so-called "Huawei Inside" concept, in which Hauwei provides the core intelligent vehicle system, operating system, hardware, and other telecommunications functions while the OEM partner contribute remaining expertise.
As Huawei's mobile phone business has been under pressure under US sanctions, Huawei is betting on the smart car as the next interface to enter and solidify its market position.
Huawei's five major development strategies for 2021 also mentioned that Huawei is opening up new business models with auto companies, including in-depth cooperation with three partners: BAIC, Changan, and Guangzhou Automobile.
The SAIC Alpha S is also one example of Huawei's efforts to expand its Harmony OS. The company said that the number of apps in the Harmony OS smart cockpit has reached double digits, and Huawei will open APIs to developers to facilitate more apps. The 20.3-inch 4K screen extends from the driving position to the co-pilot position, and supports multi-gesture operation and screen switching.
The car also uses Huawei's fast charging technology. Alpha S is positioned as a pure electric medium and large sedan, and the new car is divided into regular version and Huawei HI version.
Among them, Alpha S' AC slow charging takes 1.5 hours to fully charge, 20kW AC slow charging takes 7 hours to fully charge, and Huawei's fast charge technology supports DC fast charging for 10 minutes, which can increase the battery life by 197 kilometers, and it can be fully charged in 15 minutes. The car also supports wireless charging.
The biggest highlight of the new model is that it is equipped with Huawei's autonomous driving technology, which has reached the level where the vehicle can judge the road conditions and drive by itself, a rather vague description.
The ArcFox Alpha S Huawei HI version model is equipped with Huawei HI solution, and is the first smart electric vehicle equipped with Huawei Lidar solution. In addition to 34 sensors, the Alpha S Huawei HI version will be equipped with 3 96-wire car-gauge lidars, 6 millimeter wave radars, 12 cameras, 13 ultrasonic radars, and a Huawei chip with a computing power of 352Tops.
The Alpha S Huawei HI version is equipped with a long-range high-definition camera and lidar, matching high-precision maps to accurately extract lane and traffic light information. Through continuous machine self-learning and continuous iteration, the control performance at intersections is closer to manual driving, including straight, left, and no protection turning and other functions.
Wang Jun, President of Huawei's Smart Car Solutions BU, said that Huawei has established extensive cooperation with global mainstream car companies and has joined hands with more than 200 industrial partners to develop together. "In the first half of next year, you will see a large number of cars on the market," Wang said.
The starting price of the model is 251,900 yuan, and the highest price is 344,900 yuan, of which the Huawei H1 version starts at 388,900 yuan, and the high-end version is priced at 429,900 yuan.
(China Money Network's articles are curated and translated from credible Chinese media organizations with established brands, experienced editorial teams, and trustworthy journalism practices. However, we are not responsible for the accuracy of the information. For any questions, please reach out to our editorial department.)