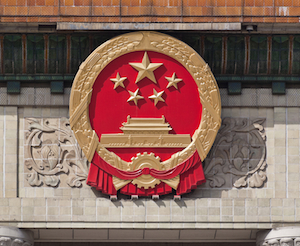 China's State Council has created a new department to coordinate financial and economic affairs, in an effort to streamline the government's oversight and management of the country's financial markets, according to media reports.
The Chinese cabinet has upgraded its financial department to bureau level, and tasked the new entity to provide administrative coordination among China's the central bank and its insurance, stock and banking regulators.
It will also be responsible for gathering data from local offices, streamlining documentation and assisting the State Council in emergency responses.
Agricultural Bank of China's vice president, Li Zhenjiang, was tapped as deputy director responsible for the new bureau's daily operations.
Previously, media reports emerged that the Chinese government was considering a plan to combine the three financial market regulators, namely China Securities Regulatory Commission, China Banking Regulatory Commission and China Insurance Regulatory Commission, into one super regulator.
The current arrangement to establish a separate body to coordinate the country's economic and financial affairs might serve as a transition before the super regulator structure is determined.
The new bureau is different from a group established in 2013 led by the People's Bank of China, as the new cabinet-led body concerns administrative coordination.
The central bank-led group mainly focuses on financial regulation coordination.