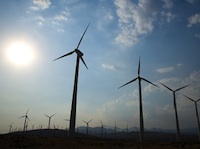 Venture capital investments in China's clean tech sector totaled US$920 million in 2013, up 156% compared with US$360 million in 2012, according to data released by consulting and research firm the Cleantech Group.
The data includes venture equity investment, PIPE (Private Investment in Public Equity) deals and convertible debt investments in the clean tech sector.
If looking at venture equity investments along, it jumped 118% to US$581.5 million in 2013 from US$266.2 million in 2012.
The biggest venture investments in terms of deal value in the past year are Xiangtan Electric Manufacturing's US$112 million investment from Hunan Hi-Venture Capital; Xiaoju Technology's US$100 million injection from Tencent Technology and CITIC Capital in series B round, as well as eHi Car Service's US$100 million round from Enterprise Holdings, Ctrip, CDH Investments, and Ignition Partners.
Other big deals include JA Solar's US$96 million PIPE (Private Investment in Public Equity) investment from undisclosed investors and Hefei Golden Sun Energy Technology's US$69.5 million investment from Jiangsu Akcome Solar Science & Technology.
"Five of the top 20 best performing stocks of the Russell 3,000 in 2013 were clean tech companies," says Sheeraz Haji, CEO of Cleantech Group. "Despite challenging IPO and M&A markets, we observed a number of positive 2013 exits."
"Our i3 data indicate that investors continue to shift away from capital intensive deals and move towards distributed generation, resource sharing, agriculture, and the digital oilfield theme," Haji adds.
San Francisco-based Cleantech Group tracks data for over 22,000 companies across 18 sectors.