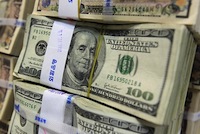 In 2013, greater China-focused hedge funds outperformed the Hang Seng Index, which is up 0.1%, by more than 16%. Hedge funds globally returned an average of 8% during the same time, according to data released by research firm Eurekahedge.
Asia ex-Japan hedge funds outperformed underlying markets and were up 13.47% in 2013 with overall assets under management growing by US$19.1 billion during the year.
Total assets in the hedge fund industry globally rose to US$2.01 trillion, the highest level on record since June 2008 when global hedge fund assets peaked at US$1.95 trillion.
Net asset inflows for 2013 stood at US$146.1 billion, with net allocations to North American and European fund managers at US$73.6 billion and US$62.4 billion.
Another research firm Preqin says that hedge fund industry saw total asset under management globally reached US$2.66 trillion in 2013, and hedge funds posted average returns of 11.08% over the course of 2013.
By investment strategy, distressed debt investing remained the best performing strategy in 2013, up 16.76% for the year, followed by long/short equities which saw gains of 14.87%.
In 2013, almost 2,750 funds in the Eurekahedge database achieved returns greater than 10%, of which over 1,000 were up more than 20% for the year.