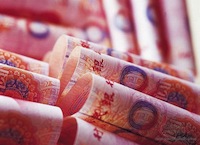 China is planning to launch a Shanghai-Hong Kong cross-border trading pilot program in about six months, according to an announcement released on the website of the China Securities Regulatory Commission.
The pilot program will allow investors in Shanghai and Hong Kong to trade stocks listed on the other stock exchange directly.
In an important step to open China's capital markets, the pilot program will allow mainland Chinese investors to trade Hong Kong stocks with onshore RMB, and provide another investment channel for offshore RMB.
The program is capped at a total of US$89 billion both ways, with daily cross-border trading limited to US$3.8 billion.
Initially, the pilot program will only include large-cap and mid-cap stocks listed in Shanghai and Hong Kong.
Only institutional investors and individual investors with over RMB500,000 in their securities and capital accounts in the mainland will be allowed to participate in the pilot program.
The Chinese securities regulator expects the preparation to take about six months, before the pilot program can officially begin.