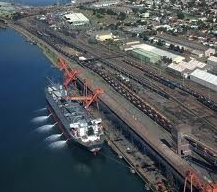 Chinese state-owned conglomerate China Merchants Group has partnered with Australian fund manager Hastings Fund Management to secure a 98-year lease of Australian's export port of Newcastle, according to China's official Xinhua News Agency.
The pair, as equal partners in the deal, will pay A$1.75 billion (US$1.63 billion) for the lease of the world's largest coal export port.
The port serviced more than 2,200 vessels carrying about 150 million metric tons of cargo in the past year.
China's coal use accounted for around 66% of its total energy consumption in 2013. 
The deal further expands China Merchants Group's global footprint. The group, headquartered in Hong Kong, has a 50% stake in a deep water container port in Topo in West African.
It is building a new US$500 million terminal in Colombo, a trans-shipment hub in the Indian Ocean. In 2010, it acquired leading Australian-based container pallet logistics provider Loscam.
The two winners outbid competitors including ATEC, Cheung Kong Infrastructure and Macquarie Infrastructure during a five-months bidding process.
The New South Wales state government, where the Newcastle port is located, says it will use the proceeds on revitalization of the city and also other projects including a new light rail service.