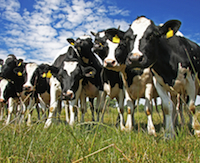 China's State Council unveiled plans to push consolidation of its baby-formula milk-powder industry, in a drive to shore up consumer confidence in domestic brands and to ensure food safety, according to an announcement released by the Chinese government's official website.
The government says its objective is to establish 10 large milk-powder manufacturers with annual revenue of over US$323 million through a wave of industry mergers and acquisitions by 2015. By the end of 2015, the top 10 milk-powder maker will take 65% of the country's total market share.
The industry will further consolidate to have three to five milk-powder champions with annual revenue of over US$810 million by 2018. By the end of 2018, the top 10 milk-powder maker will take 80% of the sector's total market share.
Both the central and local governments will provide fiscal support and necessary credit to aid industry consolidation.
The plan to reorganize and consolidate the Chinese milk-powder industry has been in the works for over a year. Last June, the Chinese government said it aimed to reduce the number of domestic milk powder manufacturers to 50 from 127.
"This move demonstrated the government's resolve to clean up the Chinese dairy industry's reputation, avoid more food safety lapses at smaller players and fend off competition from foreign companies, who now account for more than 60% of the market compared with less than 30% before the 2008 scandal," says a Fitch Ratings report published in November, 2013.
Both Chinese and Western private equity firms and other investors have been scrambling to strike deals in the Chinese dairy industry, hoping to capitalize on the planned government-guided consolidation.
In early June, Chinese private equity firms Yunfeng Capital and CITIC Private Equity Funds Management (CITIC PE) agreed to invest at least RMB2 billion (US$320 million) in a unit of Chinese dairy firm Inner Mongolia Yili Industrial Group Co. Ltd.
In March, Hong Kong-listed Fosun International agreed to acquire a 20.45% of Beijing-based dairy firm Sanyuan Foods Co., Ltd. for RMB$2 billion ($325 million). In February, Hong Kong-based Asian private equity firm RRJ Capital agreed to invest US$250 million in Shanghai-based Bright Dairy & Food Co., Ltd.
Last November, Hong Kong-listed Chinese dairy firm Yashili International Holdings Ltd. says that Temasek Holdings, Hopu Investment Management Co. and three private investors will buy a 13.24% stake of the company from China Mengniu Dairy for HK$1.6 billion ($213 million).
Last September, Kohlberg Kravis Roberts & Co. and CDH Investments formed a joint venture with Modern Dairy to build two large-scale dairy farms in China.