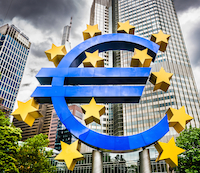 The appointments of RMB clearing banks in London and Frankfurt by the People's Bank of China last week is another major policy milestone in the Chinese currency's internationalization process. There is substantial growth potential for offshore RMB business in Europe, says a report by Deutsche Bank.
The latest two new locations join the existing five cities including Hong Kong, Macau, Taiwan, Singapore and Malaysia, to expand the total number of cities with overseas RMB clearing banks in the world to seven in total.
Dedicated clearing banks in London and Frankfurt are critical in facilitating cross-border RMB trade and investment settlement in Europe, Middle East, Africa and the Americas.
In addition, by providing RMB clearing services, the RMB clearing banks take RMB deposits and provide RMB liquidity to the market, which will strengthen the RMB's liquidity infrastructure in Europe, says the report.
Deutsche Bank believes the development of the offshore RMB market in Europe will follow a market-driven model, and Europe is likely to become the second largest offshore RMB market.
The bank expects RMB settlement in EU-China bilateral trade to triple to 5% to 6% of China's global trade in the next three years, and the overseas RMB deposit base will grow from RMB2.25 trillion to RMB2.50 trillion by the end of 2014.
Lastly, European investors will be able to invest in onshore RMB capital market through the RQFII (RMB Qualified Foreign Institutional Investors) and interbank bond market programs, while Chinese investors will have access to the London and Frankfurt capital markets, the report adds.