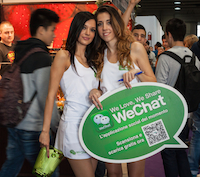 Chinese Internet services giant Tencent Holdings Ltd. has agreed to invest US$736 million in New York Stock Exchange-listed Chinese Craigslist-like platform 58.com Inc. to take an approximately 19.9% equity interest in 58.com on a fully-diluted basis, according to a joint announcement.
Tencent has agreed to purchase 36,805,000 class A and B ordinary shares at a purchase price of US$20 per ordinary share, corresponding to US$40 per American Depositary Share (ADS), each representing two ordinary shares.
In addition, 58.com will use part of the proceeds from this transaction to repurchase 27,603,750 ordinary shares from existing pre-IPO shareholders.
Tencent and 58.com have agreed to use each other as the preferred partner in local services. Both companies will jointly build out next generation online-to-offline (O2O) services leveraging the combined strengths of their respective platforms.
58.com will solidify its position in local services by capturing traffic from Tencent's various online properties such as online messenger QQ, mobile social media platform Weixin, QQ.com, and QQ browser.
Integrating 58.com's services into these properties will further expand 58.com's user base, improve the user experience by allowing users to access social tools to find recommended merchants, and help users improve the level of communication between each other and with merchants, says the announcement.
For Tencent, the investment further strengthens its expanding O2O e-commerce platforms in China, which also includes Dianping, Didi Dache, JD.com and Leju.
Tencent will help small and mid-sized enterprises and other merchants communicate with consumers via Weixin Official Accounts system or Enterprise QQ system, and complete transactions using Tencent's online payment solutions.
Last November, 58.com, backed by Warburg Pincus, SAIF Partners and DCM, raised around US$187 million by listing on the New York Stock Exchange.