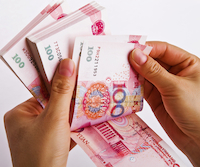 Mainland China-based companies are allowed to engage in a wider range of RMB derivatives trading today as a result of the implementation of a regulation by China's State Administration of Foreign Exchange (SAFE).
Besides the simple buying and selling of currency call and put options, onshore Chinese companies can now be engaged in the trading of new currency derivatives such as foreign exchange call spreads.
These new instruments will allow Chinese companies to better manage their currency risks as the exchange rate of the RMB becomes more volatile. It will also allow corporates to hedge more effectively and significantly reduce the cost of hedging.
Deutsche Bank says it has executed a series of more complicated RMB derivatives trades today for China's Mengniu Dairy and other Chinese companies across the chemical, coal, agriculture and manufacturing sectors that operate extensive import or export activities.
"Now more than ever, as we face a two-way forex market that can move significantly in either direction, corporates in China need effective tools to help them reduce their overall currency risk," says Beng-Hong Lee, Deutsche Bank's head of markets in China.
Deutsche Bank was among the first to execute onshore RMB foreign option trades, offshore RMB cross-currency swaps and offshore RMB forwards.