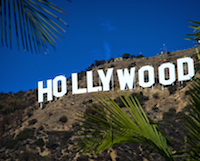 Beijing-headquartered Chinese property and hotels operator Dalian Wanda Group says it has won the bid for a plot of land in Beverly Hills, Los Angeles, and plans to invest US$1.2 billion to construct a mixed-use development on the site, according to an announcement posted on its website.
Located at 9900 Wilshire Boulevard, the 32,000 square meter land will be Wanda's first foray into Hollywood. The company, controlled by billionaire real-estate developer Wang Jianlin, says it beat out more than ten bidders from Asia and North America to win the bid.
The Hollywood project site is located in a prime luxury residential area, only ten minutes walking distance from Rodeo Drive, one of the world's leading luxury retail destinations.
The company says it will also set up a Los Angeles office, which will handle entertainment sector investments. The company's New York office will be responsible for commercial sector investments.
The Los Angeles office will be able to leverage on Hollywood's solid film industry resources to support Wanda's Qingdao Oriental Movie Metropolis and Qingdao International Film Festival projects in China.
The office will also be the base for investment in local film production companies or global theatrical releases.
In 2012, Wanda acquired U.S. cinema chain AMC Entertainment Holdings Inc. for $2.6 billion.