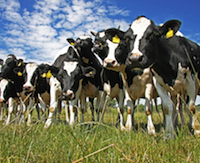 KKR & Co. has sold its remaining stake of Hong Kong-listed China Modern Dairy Holdings for about US$80 million, according to media reports.
It sold around 168 million shares at HK$3.70 per share price, representing a 3.9% discount against Monday's closing price of HK$3.85.
In May 2013, KKR sold down its stake of China Modern Dairy to another Chinese dairy firm, Hohhot, Inner Mongolia-based China Mengniu Dairy.
In that exit, KKR's stake dropped to roughly 3.6%. Another investor, CDH Investments lowered its stake to 1.5%.
KKR and CDH initially acquired stakes in Modern Dairy in 2008. The specific terms of their investments are not clear, but KKR reportedly paid roughly US$150 million for a 34.5% stake of Modern Dairy, then named Ma Anshan Modern Farming Co.
In 2010, Modern Dairy completed an IPO in the Hong Kong Stock Exchange. KKR sold down its stake to 24% in the US$448 million IPO.
KKR, after its handsomely profitable exits from the Chinese dairy firm, is still placing huge bets on China's food sector.
In August, KKR agreed to invest around US$400 million for an 18% stake in Shenzhen-listed Chinese chicken meat producer Fujian Sunner Development Co. Ltd.
In June, together with Baring Private Equity Asia, Hopu Investment Management Co. and Boyu Capital, KKR took an undisclosed stake in COFCO Meat, the hog and poultry production arm under the state-owned food conglomerate.
Before the latest exit from Modern Dairy, KKR and co-investor CDH Investments said last September that they would form a new joint venture with the dairy firm to build two large-scale dairy farms in China.