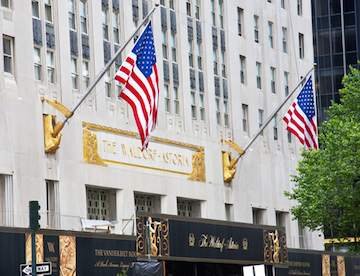 Hilton Worldwide Holdings Inc., owned by U.S. private equity giant The Blackstone Group, says it has agreed to sell the Waldorf Astoria New York hotel to Chinese insurance firm Anbang Insurance Group Co. Ltd. for US$1.95 billion, according to a company announcement.
As part of a long-term strategic partnership, Anbang will grant Hilton Worldwide a management agreement to continue to operate the property for the next 100 years, and the hotel will undergo a major renovation to restore the property to its historic grandeur.
The Waldorf Astoria New York is the flagship hotel of Hilton Worldwide's luxury brand, Waldorf Astoria Hotels & Resorts. Since 2007, the brand has increased its footprint more than five times to 27 hotels, including in Amsterdam, Beijing, Chicago, Dubai, Jerusalem, Ras Al Khaimah and Shanghai.
Its pipeline of nine additional hotels includes key tourism destinations such as Bali, Bangkok and Beverly Hills.
Hilton Worldwide intends to use the proceeds from the sale to acquire additional hotel assets in the U.S. to take advantage of an internal revenue code that defers the recognition of capital gains taxes.
These acquisitions will be finalized and announced at a later date, says the statement.
Founded in 2004, Beijing-based Anbang has over 30,000 employees and more than RMB700 billion (US$114 billion) in assets. It provides a comprehensive range of financial and insurance products to more than 20 million customers, including life insurance, pensions, health insurance, property and casualty insurance and asset management.
Anbang's shareholders are some of China's largest state-owned enterprises, including SAIC Motor Corporation Limited and Sinopec Corporation.