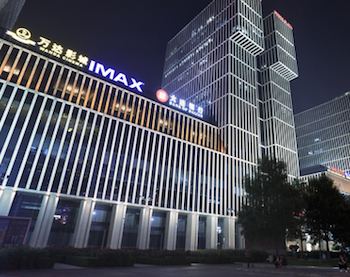 Beijing-based Wanda Cinema Line Co., Ltd. has filed for an IPO on the Shenzhen Stock Exchange to raise an estimated RMB2 billion (US$330 million) by issuing 60 million shares, according to a securities filing.
The move comes after the company's earlier attempt for a float was denied in July by Chinese regulator because of insufficient documents.
Wanda Cinema is 68% owned by Wanda Investment, an entity 98% owned by Chinese billionaire Wang Jianlin.
Wang is also the chairman of the Dalian Wanda Group, one of China's largest real estate developers.
Founded in 2005, Wanda Cinema received undisclosed amount of investments in 2010 from a number of Chinese private equity investors, including Borui Yuanda (Tianjin) Equity Investment LLP, Shanghai Renfu Investment Co., Ltd. and Dongwan Kaide Investment Ltd.
They each own 4%, 3% and 2% of Wanda Cinema respectively, according to the filing.
Tianjin Sequoia Industry Equity Investment Partnership LLP also invested at the same time, and holds 1.4% of the company.
Wanda Cinema says it will use the proceeds for cinema construction and to supplement cash flow.
Wanda Cinema operates 142 cinemas in 73 cities in China, with a total of 1,247 screens. From 2009 to 2013, the company ranked as number one cinema operator in China in terms of box office sales and market share, according to the filing.
Its revenue grew from to RMB3.16 billion in 2013 from RMB1.79 billion in 2011, with compound annual growth rate of 33%. Its net profit rose to RMB604.8 million in 2013 from RMB307.4 million in 2011.