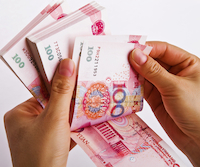 China's RMB will become one of the three most important international currencies in the next five years, together with the U.S. dollar and the Euro, says David Daokui Li, a professor at Tsinghua University's School of Economics and Management.
The Japanese Yen and the British Pound will gradually be replaced by the RMB in international trade and financial transactions, he predicts at the Cross-Border RMB Fifth Year Anniversary Forum hosted by the China Society For Finance And Banking in Beijing yesterday.
The Chinese government should not openly announce this objective as a policy goal, he advises, as this would cause too much concern for the governments and societies of countries such as the U.S. and Japan.
The RMB has already become the seventh largest reserve currency in the world as more central banks have or are preparing to put their foreign reserves in RMB, says Hu Xiaolian, deputy governor of the People's Bank of China, at the same forum.
Cross-border trade settlement in RMB has expanded to RMB4.8 trillion during the first three quarters this year, up from RMB3.58 billion in 2009, according to data from the PBoC.
RMB cross-border trade settlement has taken up close to 25% of total sino-foreign trade volume.
David Daokui Li suggests that the capital account reform in China should follow a gradual process, allowing Chinese companies and residents to use foreign currencies and invest overseas.
The turning point might be 2014, when overseas investments by Chinese entities will likely exceed foreign direct investments in China for the first time.
Since 2009, the PBoC has signed bilateral currency swap agreements with 26 foreign central banks or treasuries, with total value of RMB2.9 trillion.
The Chinese government has also established settlement agreements with the Hong Kong Special Administrative Region (SAR), Macau SAR, Singapore, London, Frankfurt, Seoul, Paris and Luxembourg.
Direct trading has been established between the RMB and U.S. dollar, Euro, Japanese Yuan, British Pound, Russian ruble, Malaysian Ringgit, Australian and New Zealand dollar.