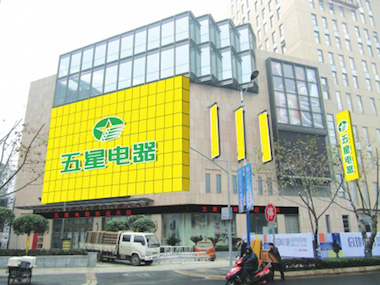 Best Buy Co., Inc. says that Zhejiang province-based real estate firm Jiayuan Group has agreed to acquire its Five Star electronics business, according to a company announcement.
Deal terms were not disclosed.
The divestiture to Jiayuan Group, a company led by chairman Shen Yuxing, will not affect Best Buy's private label operations in China, says the statement.
"Over the last two years we have worked to improve our business in China and are proud of the progress we have made there," says Hubert Joly, president and chief executive officer of Best Buy.
Jiayuan Group approached Best Buy for the deal, and plan to expand the Five Star brand in China. Five Star's chief operating officer Pan Yiqing will stay with the company, and become its chief executive officer.
"The sale of Five Star does not suggest any similar action in Canada or Mexico. Instead, it allows us to focus even more on our North American business. We will also continue to invest in and grow our China-based private label operations, with brand names that include Dynex, Insignia, Modal, Platinum and Rocketfish," Joly adds.
Best Buy entered the Chinese retail market by purchasing a majority interest in Jiangsu Five Star in 2006 and now operates 184 stores in China, all under the Five Star brand.
The transaction, which is subject to regulatory approval, is expected to close in the first quarter of fiscal 2016.
The sale of the Five Star business is not expected to have a material impact on the financial results of Best Buy.