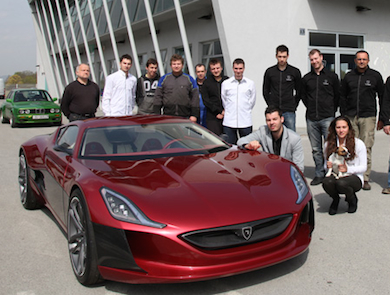 Croatian high-performance electric vehicle developer Rimac Automobili says it has completed €10 million (US$12.3 million) series A financing from three investors including Hong Kong-listed Chinese electric vehicle and battery maker China Dynamics (Holdings) Limited, according to a company announcement.
The other two investors are the CEO and chairman of oil and gas company Petrotesting Colombia, S.A., Frank Kanayet Yepes, who acquired 6% of the company, and Hong Kong businessman Tak Cheung Yam, who took a 2% stake via his personal investment vehicle, Integrated Asset Management Asia Limited (IAMAL).
IAMAL recently acquired a majority stake of American publishing platform Forbes.
China Dynamics, which invested the last, acquired a 10% of stake based on a valuation of €70 million.
"The funding will enable us to launch new products to the market and increase our production capacity," says Rimac Automobili's founder, Mate Rimac.
Mate Rimac founded Rimac Automobili in 2009 as an extension of his garage hobby, building and racing electric cars. The company has developed a high performance electric supercar, presented at the Frankfurt Auto Show 2011.