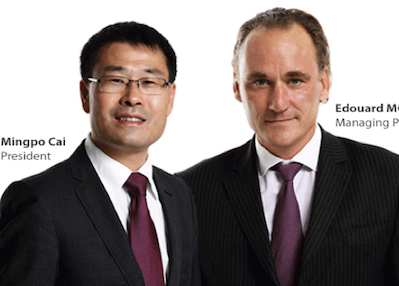 Sino-French private equity firm Cathay Capital Private Equity says it has reached a final close of €500 million for its new investment vehicle, Cathay Sino French (Midcap) Fund, according to a company announcement.
Launched in March this year, the fund reached a first closing of €460 million in June.
The fund is backed by French investment firm Bpifrance and China Development Bank. Both are contributing as much as €100 million each. Around 30 institutional investors from China, Europe and the Middle East also made commitments to the fund.
The vehicle aims to stimulate the growth and international expansion of French, Chinese and European midcap companies, with a particular focus on the German Mittelstand region.
It follows the Sino French fund for small and medium enterprises (SMEs) created also by Bpifrance and China Development Bank in September 2012. This fund, with €150 million, is managed by Cathay Capital as well.
So far, the SME fund has invested in the Flexitallic Group and Hologram Industries in France, a provider of sealing solutions for high-tech industries, as well as optical and digital high-security solutions.
In China, the fund took stakes in the provider of preventive healthcare check-up services Meinian Onehealth as well as the logistic and supply chain service provider ZM Logistics, according to the announcement.
The new midcap fund will invest in larger companies with larger deal size through significant minority stakes and occasionally through majority positions. It will focus on deals sized from RMB200 million to RMB500 million.