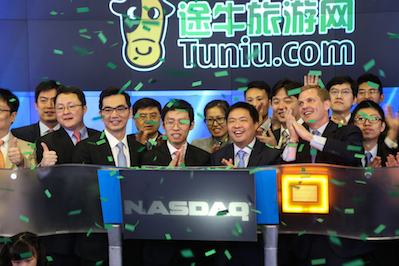 Nanjing, Jiangsu province-based Chinese travel and tour service provider Tuniu Corporation says a group of investors including Chinese private equity firm Hony Capital and e-commerce company JD.com Inc. have agreed to invest a total of US$148 million in the NASDAQ-listed company, according to a company announcement.
Hony Capital, JD.com, Ctrip.com International, and Tuniu's CEO Yu Dunde and chief operating officer Yan Haifeng plan to subscribe newly issued class A ordinary shares of the company in the amount of US$50 million, US$50 million, US$15 million, US$16.5 million and US$16.5 million, respectively.
The purchase price will be US$4.02 per ordinary share, or the equivalent of US$12.06 per American Depository Share (ADS), representing the average closing trading prices for the ten trading days prior to the signing of the agreement.
Each investors has agreed not to sell any shares for six months after the closing.
"We expect to deepen our partnership around shared travel resources with Ctrip, one of our existing shareholders, which further increased its holdings in Tuniu through this placement," said Mr. Dunde Yu, chairman of the board and chief executive officer of Tuniu.
In early December, Tuniu filed with the U.S. securities regulator for a follow-on equity offering to raise as much as US$100 million. With the latest investment from the investor consortium, the company has canceled the share issuance plan.
Tuniu raised US$72 million in a NASDAQ IPO in May. Ctrip.com and Qihoo 360 Technology Co. Ltd. each invested US$15 million and US$5 million as anchor investors.
Tuniu is backed by a series of venture investors, including Gobi Partners, DCM, Sequoia Capital, Japanese e-commerce firm Rakuten, Temasek Holdings and Highland Capital Partners.