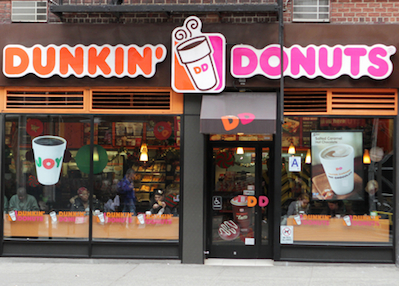 Hong Kong-based private equity firm RRJ Capital has agreed to establish a joint venture with the Philippines' largest food service network Jollibee Foods Corp to operate and grow Dunkin's Donuts restaurant chains in China, according to a regulatory filing.
The two parties will commit a total of up to US$300 million to set up a joint venture, which will be 60% owned by JWPL, a wholly owned subsidiary of Jollibee, and 40% owned by Jasmine Asset Holding Ltd., a wholly owned subsidiary of RRJ Capital Master Fund II, L.P.
Jollibee will contribute up to US$180 million and be responsible for the daily operations of the business. RRJ will commit the remaining US$120 million.
The joint venture has signed an agreement with Dunkin' Donuts Franchising LLC, which will allow it to have the exclusive right to develop Dunkin' Donuts brand in certain territories in China.
Dunkin' Donuts opened its first store in mainland China in 2008 in Shanghai, with plans to open 100 new stores over the next 10 years. At that time, it granted the franchise rights for Shanghai, as well as Jiangsu and Zhejiang province to Taiwanese company Mercuries & Associates.
Dunkin' Donuts currently operates 22 stores in China, according to the company's Chinese website.
Dunkin' Donuts are granting franchise rights to the joint venture between RRJ and Jollibee in Fujian, Hunan, Jianxi, Guangdong, Hainan, Guanxi, Hebei, Shangxi, Chongqing, Guizhou, Sichuan, Yunnan, Heilongjiang, Jilin province, as well as Beijing, Tianjin, Hong Kong and Macau.
Jollibee operates 2,886 stores worldwide, of which 2,283 are in the Philippines.