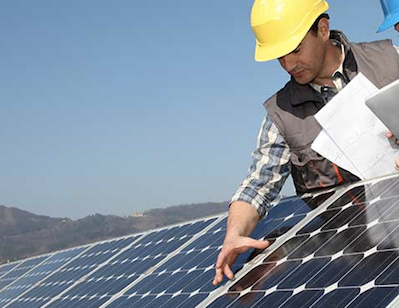 An investment fund under Ping An Insurance (Group) Company of China has agreed to subscribe an aggregate of RMB1 billion (US$161 million) convertible bonds in Hong Kong-listed Chinese solar power plant investor and operator United Photovoltaics Group Limited to fund the acquisition of an undisclosed solar power plant project, according to a company announcement.
Chinastone Capital Management Limited, the manager of Taoshi Energy Equity Investment Fund under Ping An Insurance, is to subscribe for the 7.5% three-year convertible bonds.
The bonds can be converted to United Photovoltaics' stocks at HK$1.03 per share.
The company's shares jumped to HK$1.03 on December 30, 2014 on the news. The stock has been trading around HK$0.90 apiece for the previous month.
United Photovoltaics, with operational headquarters in Shenzhen and whose largest shareholder is China Merchants New Energy Group, will use the proceeds to acquire a 300 megawatt solar power plant project.
China Merchants New Energy Group is a subsidiary of state-owned conglomerate China Merchants Group Limited.
Shanghai-headquartered Chinastone Capital is an equity investment firm specialized in China's energy sector. It is a joint venture founded in 2010 by Ping An and China-focused private equity firm San Shan (HK) Limited, and is capitalized by Ping An with approximately RMB10 billion (US$1.61 billion).