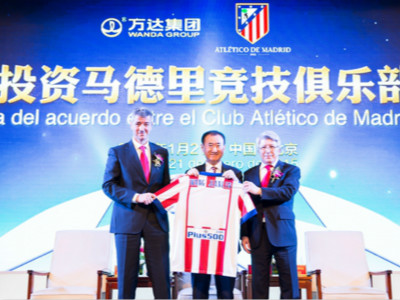 Chinese conglomerate Dalian Wanda Group has invested €45 million (US$52 million) to acquire a 20% equity stake in Club Atlético de Madrid, a Spanish football club, to help shore up its balance sheet and support its expansion in China, according to a company announcement.
This is the first time a Chinese company has invested in a top European football club. The deal will also give Wanda a seat on the club's board of directors.
As part of the agreement, Atlético will be responsible for drafting a plan specifically focused on the growth of Chinese grassroots football overseas, which will involve building a new youth training center to provide optimum facilities for young Chinese footballers studying in Spain.
"This investment will not only provide a golden opportunity for young Chinese players sent overseas by Wanda to be selected by leading European football clubs, it will also strengthen the quality of Chinese football and narrow the gap between the rest of the world," says Wang Jianlin, chairman of Dalian Wanda Group, in the statement.
In addition to the development plan, Atlético will give high performing players from "China's Future Star Program" equal opportunity to be selected in its teams, meaning Chinese football players will have the chance to play on a world class stage.
Furthermore, Wanda will invite Atlético to China each year to help promote European football.
By 2017, Wanda aims to invest €20 million annually to support the development of 180 young Chinese players in Spain.
Atlético owns a football stadium and five training academies in Madrid. Atletico have won La Liga on ten occasions, were crowned La Liga champions in 2013-2014 and became UEFA Champions League finalists during the same season.
In 1993, Wanda established Dalian Wanda F.C., China's first professional football club. In 1999, Wanda left the football business, only to return in 2011 by signing an agreement with the Chinese Football Association (CFA) to support the revitalization of football in China.