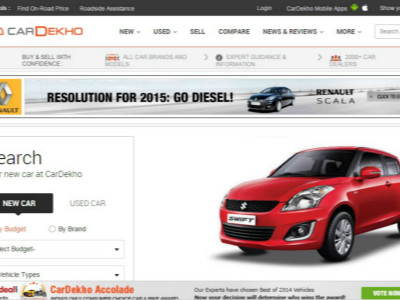 Asia-focused alternative investment management firm Hillhouse Capital Management has led US$50 million series B financing round in Indian automobile classified ads web platform CarDekho.com, according to a company announcement.
Tybourne Capital and Sequoia Capital also participated in the round, which increased the valuation of CarDekho's parent company, Girnar Software, to approximately US$300 million.
"We see tremendous growth opportunities in the online automobile classified market in India…We are in the early stages of the development of the auto industry and its transition to online," says David Rhee, a partner at Hillhouse Capital.
Established in March 2008, CarDekho.com is India's auto portal connecting buyers, owners, auto enthusiasts and dealers across the country.
The website currently has about 11 million visits per month with 7.5 million unique visitors per month. The company recently acquired another automotive portal Gaadi.com to add to its used car segment.
Founded in 2005 by Yale University graduate Zhang Lei, Hillhouse is a long-term fundamental equities investor. Earlier this month, it was reported that it had raised a US$2 billion new fund, boosting its asset-under-management to US$18 billion.
Hillhouse's recent investments in China included injecting US$35 million as a cornerstone investor during the Hong Kong initial public offering of Beijing-based Chinese hotpot restaurant chain Xiabuxiabu in December 2014.
In November 2014, Hillhouse participated in a US$75 million round of financing for Beijing-based Chinese oncology research and development firm BeiGene (Beijing), Co., Ltd. in November 2014.
In September 2014, Hillhouse invested US$30 million in Chinese car rental company China Auto Rental as one of its cornerstone investors.
In August 2014, media reports speculated that Tencent and Hillhouse were planning to establish a joint venture pubic investment fund.