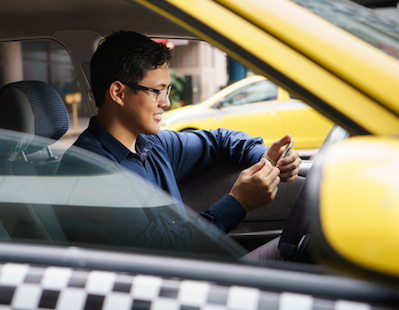 On Valentine's day, two of China's largest taxi-hailing mobile app operators, Didi Dache and Kuaidi Dache, say they would merge their businesses to create an absolute industry leader in China, according to an announcement posted on Didi Dache's official Weibo account.
The merger would mark an end to a bitter and expensive price war between the two to dominate the emerging smartphone-based transportation services market in the world's most populous country.
Didi Dache says it has roughly 75% of China's taxi and private car calling apps market, while Kuaidi Dache claims it takes around half of the market.
Didi Dache and Kuaidi Dache's CEOs, Cheng Wei and Lu Chuanwei, will become co-chief executives of the new company, which will see the two entities continuing to operate independently under their own brands.
The two companies, both backed by numerous venture and private equity firms, say they would hold a press conference after the Chinese New Year to introduce more details of the tie-up.
In December, Beijing-based Didi Dache said it had completed US$700 million series D financing led by Temasek Holdings, DST Global and existing investor Tencent Holdings Limited.
A month later, Hangzhou, Zhejiang province-based Kuaidi Dache announced it had completed US$800 million series D financing as well from Alibaba Group Holdings, New York-based investment firm Tiger Global Management LLC, and two unnamed investment funds.
Launched in September 2012, Didi Dache received US$3 million series A financing from GSR Ventures in 2012.
In April 2013, it received US$15 million series B financing from Tencent, and completed nearly US$100 million series C financing round led by CITIC Private Equity, Tencent and other unnamed investors in January 2014.
Launched in May 2012, Kuaidi Dache received US$10 million series A financing from Alibaba Group Holdings and Matrix Partners in 2013, according to information posted on its website.
The company reportedly completed over US$100 million series B financing from Matrix Partners and Alibaba, and an undisclosed amount of series C round in 2014.