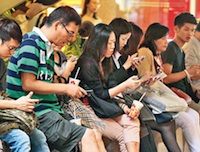 Chinese marketing firm Guangdong Advertising Co., Ltd. plans to acquire 15% of Lomark, a venture-backed mobile advertising firm based in Shenzhen, for RMB112.5 million (US$18 million), according to a regulatory filing.
The strategic investment in Lomark will expand Guangdong Advertising's mobile advertising offerings, and the two companies will cooperate on improving their existing advertising products.
In October 2014, Shenzhen-based Lomark received US$30 million series B financing led by Kleiner Perkins Caufield & Byers (KPCB).
Founded in 2010, Lomark received undisclosed amount of investment from DFJ China in 2011.
The company focuses on providing precision advertisement on mobile devices in China. It recorded RMB300 million (US$49 million) in revenues in 2013.